Why would I roast my coffee beans at home?
That's way too much work.
Roasting coffee beans at home might sound like a difficult process, but it isn't. And you'll be surprised at all the benefits.
Roasting is the most important step in the process that takes you from raw bean to steaming cup of coffee.
In this article, you'll learn how controlling the roasting process, gives you control over acidity, which impacts the final flavor of your coffee.
Besides, buying green coffee beans has other advantages. They are cheaper than roasted coffee beans and they can be stored for a longer time without going stale.
Buying small amounts of green coffee beans and roasting them yourself, ensures a fresh coffee flavor every single time.
Sure, you can make things a little easier and buy pre-roasted coffee beans. Or go one step further yet, and buy ground beans ready for brewing.
But you will miss out on so much. Only by roasting your own coffee beans will understand what makes your coffee taste so good. You'll get to experimenting with different types of beans and roasts, until you find the perfect combination for your tastes.
Why Are Coffee Beans Roasted?
Drinking green coffee beans is actually a thing. But green coffee tastes completely different than the coffee you know. It has a grassy flavor and it doesn't have the characteristic aroma.
Roasting coffee beans brings out that famous coffee aroma and flavor that is locked inside the green coffee beans.
The roasting process changes the chemical and physical composition of the coffee beans. First, they lose a lot of moisture, causing the beans to dry and expand. This is known as the drying phase.
They lose mass, but they gain volume. That's what makes people think that light roasts have more caffeine, but in reality, caffeine remains pretty much stable during the roasting process.
Later on, they slowly start turning darker and oils start to appear on the surface at higher temperatures. With the roasting process, the acids contained in the coffee beans also decrease. That's why the acidity is so different, depending on the final roast.
If you understand the changes in the coffee beans while being roasted, you will see why this process is so important. You can basically control the final flavor of your coffee!
Stages Of Roasting Coffee
If you search how to classify the different roasting levels of coffee, you will find a lot different information, leaving you overwhelmed with far too many terms describing basically the same things.
You have probably heard names like "French Toast" or "City Roast". Well, these are names given to a specific degree of roast. Some coffee roasters use these names, while others prefer to classify them by color.
Color is actually the most common way to categorize the degree of roast. This classification by color might also vary from roaster to roaster, but basically they go from light to dark.
It is important to mention that, because each type of coffee beans is so different, it is hard to determine a roast simply by a coffee bean's color. That means this method of classification is not so accurate, but it is more convenient.
So, before you dive into roasting your coffee beans at home, it is important to know what each degree of the roast is like. Then you can choose the one you want to achieve first.
Under Roast
We do not recommend leaving your coffee beans under-roasted because under-roasted beans are extremely difficult to grind. Unless you have a commercial coffee grinder at your disposal, you will struggle to grind them.
Even though we don´t recommend it, we thought it was important to mention this first phase so you can understand a little bit more about the changes that the coffee beans experience. It is also important, because this is the phase of roasting you need to achieve the famous white coffee.
As we mentioned before, the first thing that changes in the coffee beans is the moisture. This evaporates drastically when beans are roasted at a temperature of 165°C (329°F). That is why this phase is known as the drying phase.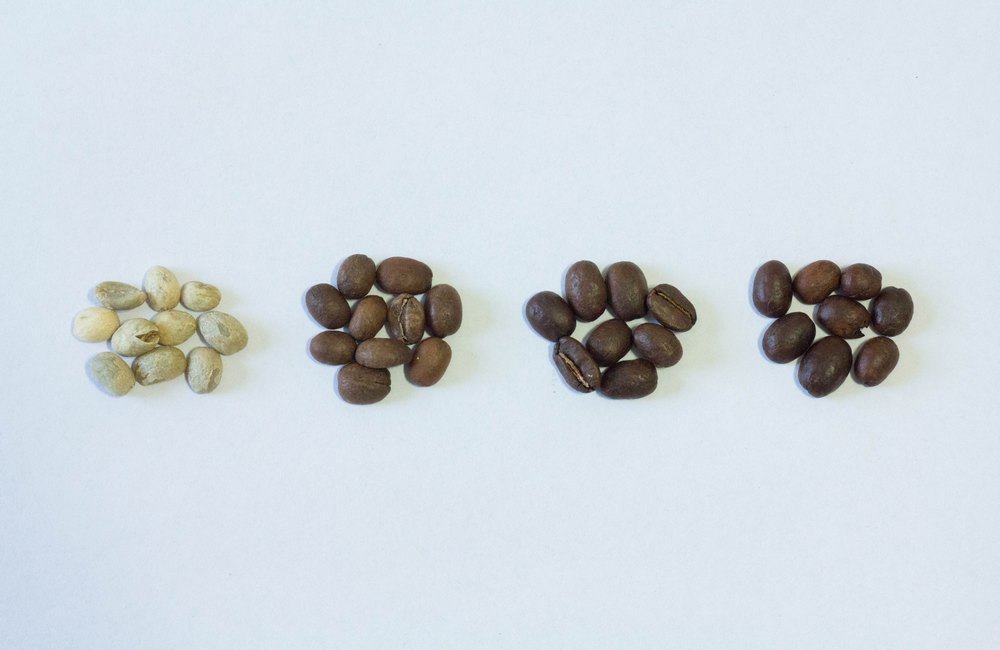 Light Roast
Light roast is identified by its light brown color. It is reached at temperatures between 196°C and 205°C (385°F – 401°F). This degree of roast includes the roasts known as Cinnamon Roast, New England Roast, and Light City, among others.
In this phase, the surface of the coffee beans is dry and they crack open, like popcorn. This is known as the first crack. Light roasts mean that the coffee beans are roasted only until the first crack, or even right before, and no longer.
The flavor derived from this roast is lighter-bodied and has higher acidity. If you are looking for a roasted flavor, you won´t get it with this degree of roast. Light roasts are ideal for tasting the full origin character of the coffee.
Medium Roast
The color of this roast is medium brown, and just as the light roast, the coffee beans have a non-oily surface. A medium roast is reached at temperatures between 201°C and 219°C (410°F – 426°F).
Medium roast is often referred to as the American roast, because it is generally preferred in the United States. But other types can also be categorized as medium roast, such as City Roast, and Breakfast Roast.
Coffee beans reach this degree of roast after being developed through the first crack. They have a stronger flavor than the light roast. Because the sugar has been caramelized and the acidity has been muted, the coffee has a higher body.
Medium-Dark Roast
A medium-dark roast has a richer and darker brown color. You can identify this degree of roast because the coffee beans start showing some oil on their surface. Coffee beans are roasted to the beginning of the second crack and a little longer.
The temperatures used to get a medium-dark roast range between 225°C and 230°C (437°F – 446°F). Some names of roasts that belong to this degree are Full City Roast, After Dinner Roast, and Vienna Roast.
The acidity has been muted, resulting in a more bittersweet, caramel flavor. Any origin characteristics have become eclipsed by the roast at this level.
Dark Roast
The color of this roast goes from dark brown to nearly black. The surface of the coffee beans at this point is shiny because of the oil.
This degree of roast is reached with temperatures between 240°C and 245°C (464°F – 473°F). Some popular names for this roast are Italian Roast, Fench Roast, Spanish Roast, and Continental Roast.
At this point, only little of the character the coffee's original flavors remain. Bittersweet flavors are prominent, and aromas and flavors of roast become clearly evident.
In general, we can say that at lighter roasts, the coffee will exhibit more of its origins. Lighter roasts also have more acidity than darker roasts. They are dry, while darker roasts are oily.
How To Roast Coffee Beans At Home
Now that you have a basic idea of the classification of the degrees of roast, all you need to do is buy some green coffee beans and decide between the following three simple ways to roast your coffee beans at home: in a pan, in the oven, or in a home coffee roaster.
No matter which method you choose, you will always need to have:
Green coffee beans
Metal colander to cool the beans
Wooden spoon or a wire whisk
Storage container for the roasted coffee beans (better if it's air-tight)
Ventilation! Roasting beans gets very smoky. Open all the windows if possible
Roasting Coffee Beans In A Pan
This is the most convenient way to roast coffee beans at home because everybody has a pan in the kitchen. Therefore, this is also the cheapest way to try this process at home.
What You Need
Besides the articles mentioned above, you also need a thick pan. It's really important that is it uncoated. Do not use a non-stick pan.
Process
Preheat the pan over medium heat. A gas stove works better, but you can also roast coffee beans on an electric stove.
Pour the coffee beans into the pan. Make sure not to add a large amount—just enough to cover the bottom of the pan, while still allowing you to easily stir them, which is about half a cup.
Stir—you want to keep the beans moving. For this reason, we recommend roasting in small amounts.
Observe how the coffee beans start changing color. After about 4 or 5 minutes, you should hear the first crack. They just reached a light roast.
If you want to achieve a medium-dark roast, continue stirring until you hear a second crack.
We do not recommend letting the beans roast much longer after the second crack, or they can get burnt. Give them about 30 seconds more after the second crack.
When they're ready, pour the beans into the colander. All of the chaff resulting from the roasting process will fall through the holes of the colander, so it's better if you do this in the sink, or use a receptacle under the colander.
Let the roasted coffee beans de-gas overnight.
Store them in the air-tight container.
Roasting Coffee Beans In The Oven
Another cheap and convenient way to roast your coffee beans at home is by using the oven. A disadvantage of using the oven to roast coffee beans is that the roast can be uneven, because there isn't much airflow. At the same time, this lack of airflow increases the richness of the flavor, so there's a trade-off.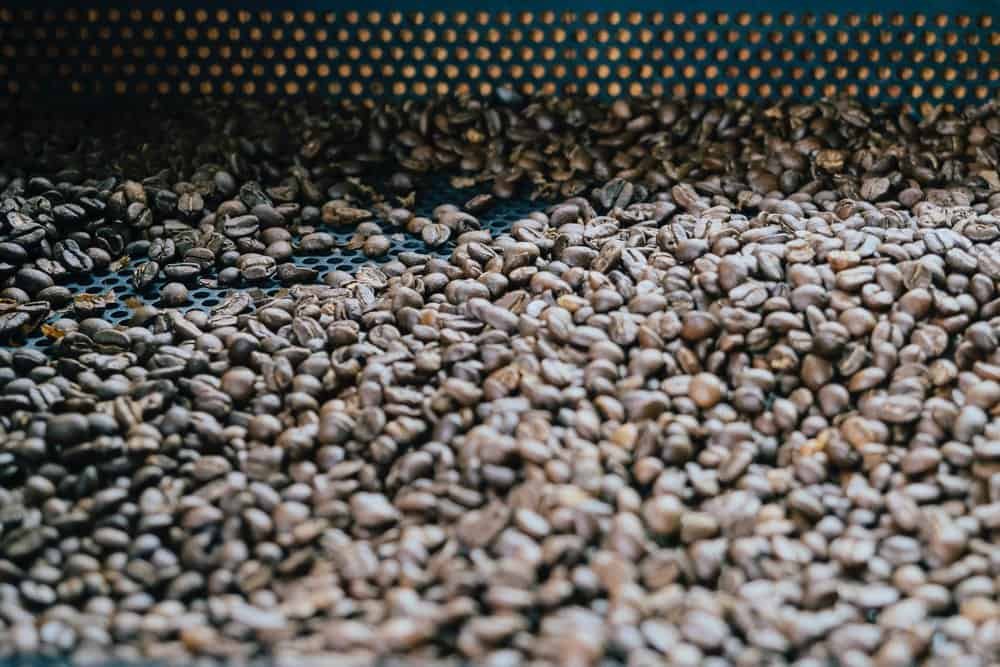 What You Need
For this method, you will also need a baking tray or a baking sheet with small perforations (so the coffee beans don't fall through them)
Process
Preheat the oven to 243°C (470°F). You can experiment with various temperatures, depending on the type of coffee beans. We recommend starting with 470°F and then going up and down depending on your needs.
Place the coffee beans on the tray. If the tray doesn't have holes, use a perforated baking sheet. Pour only a single layer of beans onto the tray, making sure that the coffee beans don't overlap.
Place the tray in the middle rack of the oven for a more consistent temperature.
Monitor the roast. Some ovens do not distribute the heat evenly, so you might see some coffee beans getting darker than others. If this happens, open the oven to stir the beans with a wooden spoon. You shouldn't do this more than twice during the roasting process because every time that you open the door of the oven, the temperature drops.
Listen for the first crack. It should come after 5 to 7 minutes. If you want a darker roast, wait a few more minutes for the second crack. In total, your coffee beans should have a dark roast in 10 to 15 minutes.
When you have the desired roast, pour the beans quickly into the colander to cool them down and prevent the heat from cooking them further.
Let them de-gas overnight.
Store them in the air-tight container.
Roasting Coffee Beans In A Home Coffee Roaster
This is by far the best way to roast coffee at home, but also the most expensive, of course. If you are serious about roasting and plan on doing it all the time, then it is definitely worth it to invest in a home coffee roaster.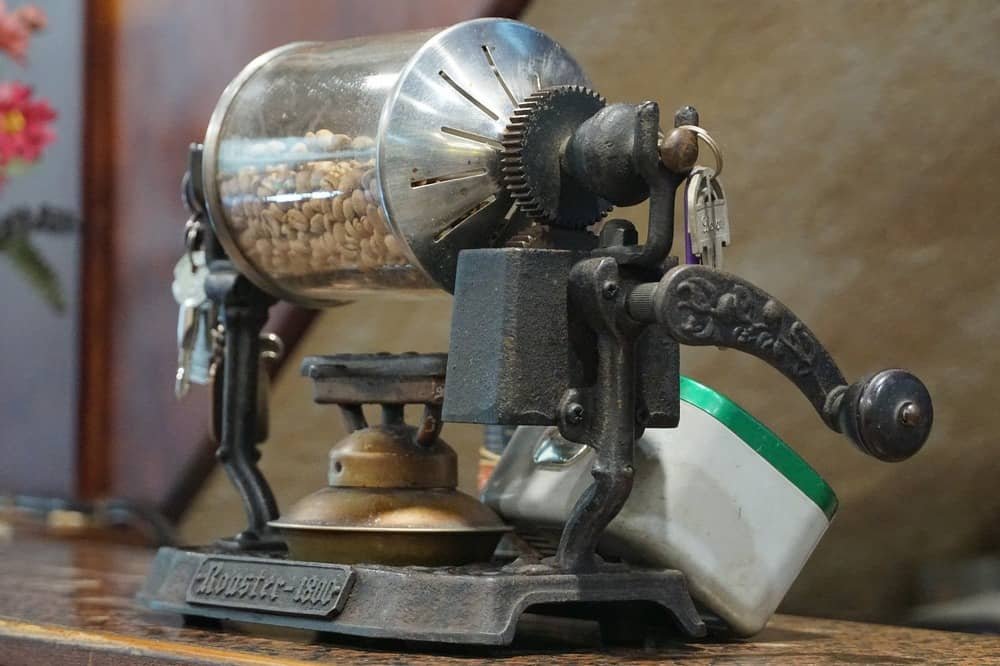 The advantages of having a home coffee roaster are that you will get an even roast on all your beans, and that they won't burn as easily as they do if you roast them in a pan or in the oven. Roasters are also very easy to use and to clean.
Process
Read the manufacturer's instructions to make sure you know how to operate your machine.
Add the green coffee beans.
Monitor the roast, even if your machine is automatic.
Cool the beans down. Some machines have this option. If yours doesn't, transfer the roasted beans into the colander.
Just as with the other methods, let them air out overnight, to de-gas.
Store them.
Roasting Your Own Coffee Beans: Related Questions
Can I Roast Coffee Beans In A Popcorn Popper?
You have probably seen this method of roasting your coffee beans in several forums and blogs. For some reason, it seems to be a popular way to roast coffee at home, and although some people claim that it works, we don't recommend using this method.
Popcorn poppers' function is to produce enough heat to pop the corn seeds. They are not made to roast coffee beans, so you might end up with a really uneven roast and you could even damage your popper.
That said, if you already have a popcorn popper at home, feel free to experiment with this method and see what kind of results you get. It could be that your machine is good enough to properly roast coffee beans. But know that you will probably void any warranty, if you have one.
If you don't have one of these machines, do not invest in one for the sole purpose of roasting coffee beans. Just get a home coffee roaster instead.
Is Roasting Your Own Coffee Beans Worth It?
Definitely! As we said before, roasting beans is the most important part of coffee making. And it's only through this process that you can understand more about coffee. You might not get the best results in the beginning, but with practice, you can master the roast.
Roasting coffee beans at home also gives you the advantage of trying different degrees of roast with different types of beans, allowing you to taste different flavors that maybe you wouldn't be able to try, if you only buy pre-roasted coffee.
And if you value freshness, you should definitely be roasting your coffee beans. And also grinding them yourself. If you don't have a coffee grinder at home, here's a guide on how to grind coffee without a grinder.
Roasting Coffee Beans At Home: Final Thoughts
Roasting coffee beans at home is not a complicated process. It requires only basic knowledge on the different degrees of roast and to understand the changes that occur in the beans during this process.
It is a process that we encourage you to try. As you can see, you only need basic kitchen supplies to roast coffee beans at home.
But of course, if you want to get serious about it, buying a home coffee roaster is totally worth it.
Roasting your own beans will guarantee you daily freshness and it's also cheaper to buy green coffee beans!
Now that you know the different degrees of roast and how you can roast your beans, which method and degree of roast will you try?