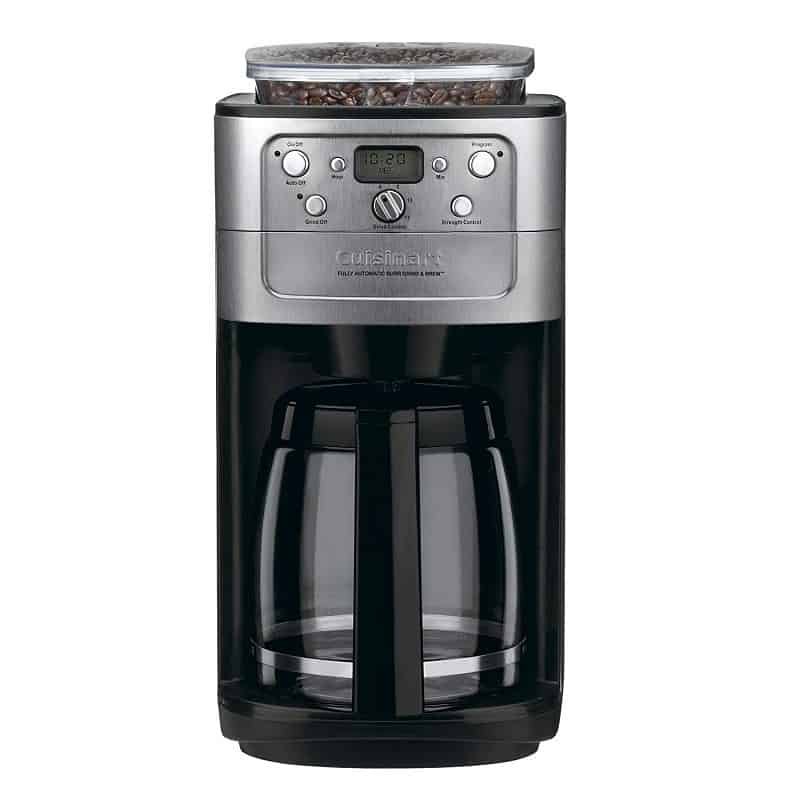 The Cuisinart DGB-700BC Grind & Brew 12 cup coffee maker has a ton of great features, which is pretty incredible given the low price.
It features a built-in burr grinder, an eight-ounce bean hopper, and a charcoal water filter that removes chemicals and other impurities and also prevents calcium deposits from building up in the machine.
Multiple program options let you control the strength of the brew and much more. A timer function means you can wake up in the morning with freshly brewed coffee waiting for you. The one drawback is that maintenance of the machine can be a bit of a hassle.
Our Verdict
This is a great coffee machine for any home or small office. It can brew up to 12 cups at once, so it can handle a lot of coffee drinkers under one roof.
With the built-in burr grinder, you can always have freshly ground beans for your coffee, giving you a much higher quality brew. And the water filter ensures the water is always clean and pure, so it will not negatively affect your coffee.
The Cuisinart machine costs more than your average home coffee maker, but it costs far less than other units with a grinder and water filter. This is an incredible bargain.
The features included in this inexpensive machine are pretty incredible. Let's look more closely at what you get
Cuisinart Grind & Brew Review: Overview and Features
The DGB 700BC coffee machine by Cuisinart gives you complete control over your brew. Its twelve-cup capacity makes it a great choice if you have multiple coffee drinkers in the home.
This machine's fully programmable settings will allow you to choose brew times, coffee strength, and exactly how many cups of coffee you want to brew.
Cuisinart DGB-700BC Grind & Brew 12 Cup Coffee Maker
Grinder
The built-in burr grinder is highly adjustable. Grind options include:
Select the amount of beans to grind based on how many cups of coffee you want to brew.
Choose grind consistency
Bean Hopper
The eight-ounce bean hopper can store up to half a pound of coffee beans. The moisture-resistant lid will ensure your beans stay dry and fresh until grinding time.
The grinder's design consists of stainless steel conical burrs that produce a consistent grind every time.
 Choose from three coarseness settings:
Size
The best coffee makers with grinder are not known for their space-saving designs, so you can expect this model to take up plenty of counter space. But if you want to enjoy a fresher cup of coffee with just the push of a button, then the loss of counter space should be a fair tradeoff.
Maintenance
Keeping this coffee pot clean takes a lot more elbow grease than we'd like. The manufacturer recommends cleaning out the bean hopper every five to ten uses, wiping out the coffee chute, and cleaning out the burr grinder.
Filters
The gold-tone coffee filter and the charcoal water filter will remove harmful chemicals and minerals, both of which can negatively impact the quality and flavor of your coffee. The charcoal filter must be replaced every three to six months and can be ordered straight from the manufacturer's website.
Program Options
The LED panel will display the brew time you've selected and the brew strength. If you want to wake up to the smell of freshly brewed coffee, simply set the timer and the coffee maker will brew the coffee at the chosen time.
Brew Pause
If you have a hard time waiting for the entire pot of coffee to brew, you're not alone. Fortunately, this model comes equipped with the popular brew pause feature, which will pause the brewing process if you want to dive on in and pour yourself a cup of coffee before the pot is full.
However, the pause function is only active for twenty seconds. If you remove the coffee pot and don't put it back in the allotted time, the brewing process will commence with or without the carafe.
Pros
Reusable coffee filter
Charcoal water filter
Makes up to twelve cups of coffee
Built-in burr grinder
Larger bean hopper
Highly programmable
Allows you to select grind consistency and brew strength
Cons
Pause brew feature lasts for just twenty seconds
High-maintenance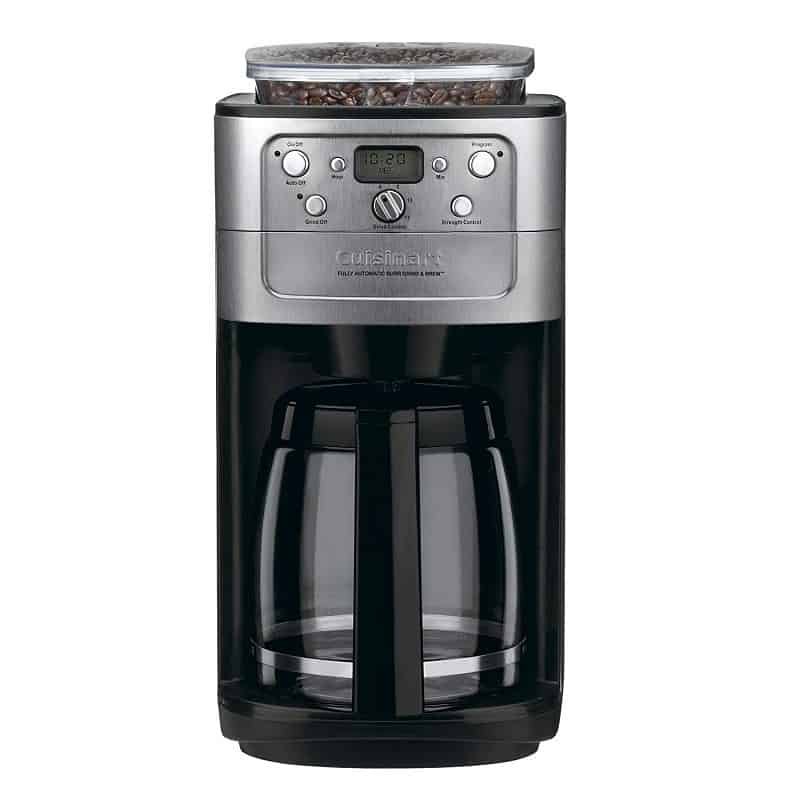 Performance
While it's true that this model offers a variety of setting options, it's not as programmable as the Espresso Works All-In-One Coffee Maker , which offers sixty programmable options. However, the Espresso Works coffee maker also comes with a higher price tag.
This model is definitely more beginner-friendly if you're looking for a machine with a basic setup and intuitive controls. Even if you've never made a pot of coffee before, the included instructions will easily walk you through the process.
Before you make a fresh pot of coffee, you'll need to fill up the water reservoir and keep a close eye on the water indicator level, located on the right side of the machine. The water reservoir is clearly marked so choosing how many cups of coffee you want to brew is pretty simple.
The next step is grinding the beans. You will use the grind control knob and choose the appropriate amount of coffee you want to grind based on how many cups you want to brew. This setting is also based on cup numbers with setting options ranging from two cups up to twelve cups.
The last step is choosing the brew strength. Once you hit the brew button the machine will fly into action beginning by automatically grinding the beans.
If you want to bypass the grinder and use pre-ground coffee you can switch the grinder function off.
If you choose the twelve cup option, the machine will take approximately twelve minutes to brew a full pot.
Related Questions
Do I Have to Use the Burr Grinder Each Time I Brew a Pot of Coffee?
No. If for some reason, you don't like the built-in grinder, or you prefer to use pre-ground coffee you can simply switch the grinder off.
Some people even prefer to grind their coffee beans by hand because they claim that it results in a finer consistency. If you'd like to learn more about how to grind coffee beans without a grinder head here to find some great tips and tricks for the perfect coffee bean grind consistency.
How Do You Clean Out the Burr Grinder?
It's no secret that when it comes to cleaning this coffee maker, it can be a little high maintenance and time-consuming.
The manufacturer recommends cleaning out the burr grinder after every five to ten uses, but you may want to clean it out more often than that, especially if you notice the grind isn't consistent or the coffee the machine is brewing has begun to taste weak.
To do, you'll begin by opening the machine's filter housing to remove the filter's cover. This allows you to remove any remaining bean particles and crumbs from the chute that can end up in the filter.
Next, remove the hopper's cover and unlock the hopper itself by turning a knob. Remove the cover off the bean chute and pull a lever to release it. Using the included brush, sweep out the grinder and the chute.
Once it's swept clean replace the chute and bean hopper. If you're having ongoing issues with the quality of the grind or weak tasting coffee, even after cleaning, we recommend contacting customer support for troubleshooting help.
Cuisinart DGB-700BC Review: Conclusion and Rating
Product Rating: (5/5)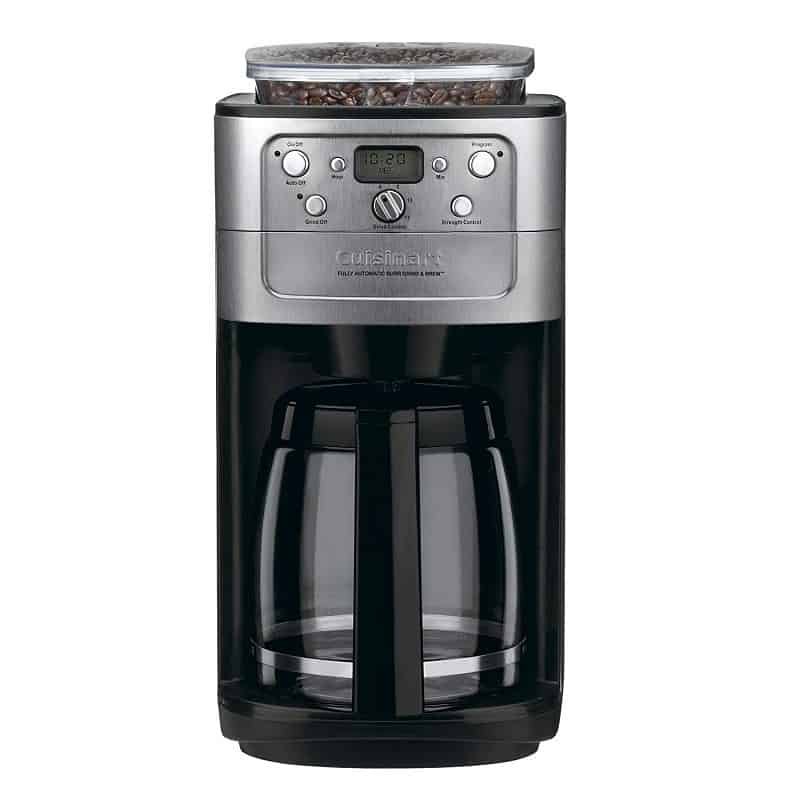 The Cuisinart DGB Grind and Brew earned a five out of five-star rating. It comes with some great features, including the built-in burr grinder, program options, and large bean hopper designed to keep your coffee beans fresh for several weeks.
If you're looking for an all in one machine and one that can brew fresh tasting coffee while you sleep, then we highly recommend this model.