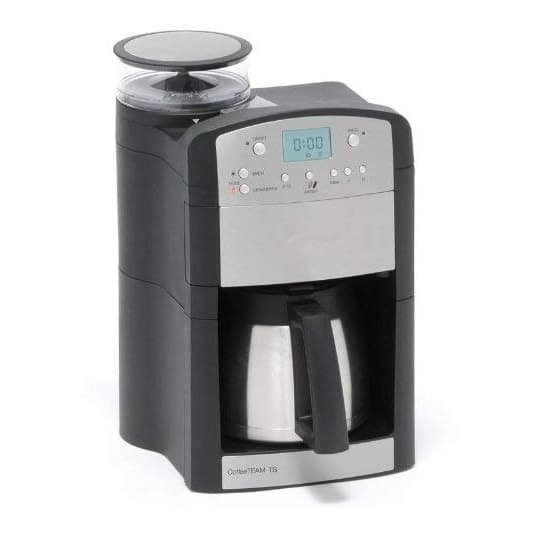 The Capresso 465 CoffeeTeam TS Digital Coffeemaker is the ultimate in fully automatic technology. It is a highly programmable machine that makes for a fully automatic brewing process.
The built-in burr grinder delivers freshly ground beans and does so with a minimum of noise. The water filtration system removes impurities from your water.
You can program everything, from grind fineness to brew strength. You can also set a timer and wake up in the morning to freshly brewed coffee. And all of this at a very low price for a machine with so many features.
Our Verdict
This is the ideal machine for anyone who appreciates good coffee, but wants to take the work out of making it. It will do everything for you.
The high-quality grinder is a great feature for anyone who appreciates a good cup of coffee, since freshly ground beans make for a much smoother brew. The ability to choose the fineness gives you complete control over the resulting flavor.
The bean hopper is fairly small, meaning you can't store a ton of beans in it. This is not an issue for most people, but if you like to keep your beans in the hopper, this is not the machine for you.
This coffee machine does a lot considering the price and does all of it well. Let's take a closer look.
Capresso 465 CoffeeTeam TS Review: Overview and Features
The TS Coffee machine by Capresso has a ten-cup capacity and a stainless steel design. It also comes with a built-in burr grinder, so you can enjoy the freshest coffee possible.
This fully automatic model will leave you feeling spoiled. No longer will you have to get up early to grind beans and brew a fresh pot of coffee.
Instead, ensure the bean hopper and water reservoir are full, and use the automatic brew function to set the time you want your coffee machine to go into action. It's that simple.
Capresso 465 CoffeeTeam TS 10-Cup Digital Coffeemaker with Conical Burr Grinder
Automatic Brewing Process
Once the automatic brew process gets to working the machine will begin by automatically pushing the perfect amount of beans into the grinder. From there the ground coffee will make its way into the filter.
Brew Volume Selections
You'll have a total of five brewing options to choose from, ranging from two cups up to ten cups. With this information, the machine is able to determine how many beans to load into the grinder and how much water to extract from the reservoir.
Brew Strength
Do you enjoy a mild cup of coffee in the morning, or do you need your coffee to be as strong as possible in order to wake you up and get you moving? The brew strength setting allows you to choose from three options:
Construction
The stainless steel housing of the coffee machine combined with the stainless steel thermal carafe gives this model a sleek, modern look. Additionally, the stainless steel carafe is specially designed to keep your coffee nice and hot for several hours.
Brew Pause
For some, nothing is quite as difficult as waiting for a pot of coffee to finish brewing. Many people are guilty of grabbing the pot and pouring a quick cup of coffee before the process is complete, which can lead to spilled coffee all over the counter and burned coffee on the warmer plate.
Fortunately, Capresso has thought of everything, including a brew pause feature. Now, when you remove the carafe when a pot is brewing, the process will immediately halt until the carafe is placed back on the warmer plate.
Grinder
If you're tired of using your blade grinder to grind your coffee beans, then you'll love the built-in burr grinder. It's no secret that when it comes to a consistent grind, the burr grinder is the best choice.
Because of this, we were happy to learn that this model comes equipped with a tough stainless steel burr grinder, a device that can expertly grind your coffee beans to the perfect consistency for a richer, fuller flavor.
The grinder allows you to choose from five different grind settings ranging from ultra-fine to coarse. The grind will influence how strong your brew will be.
Cleaning out this grinder is a breeze. Use the included brush to sweep out any remaining coffee grounds after each use to prevent the old remaining grounds from mixing with freshly ground beans. We recommend doing this daily.
Coffee Filter
The reusable gold tone filter is easy to clean, simply empty out the coffee grounds and rinse the filter out using warm water. This will eliminate waste in the form of paper filters.
Bean Hopper
The bean hopper can hold up to six ounces of coffee beans.
This may be a downside for some buyers who are searching with a bean hopper with a larger capacity, but in reality, you should purchase your beans in smaller quantities in order to ensure you're using the freshest beans possible. For us, the size of the bean hopper is more than adequate.
Water Filter
If you want the best tasting coffee possible then you need a coffee machine that comes with a built-in water filter. This model uses a charcoal filtration system that will remove up to eighty percent of impurities from your drinking water including minerals and chlorine.
Pros
Automatic brewing process
Brew pause
Water filter
Reusable filter
Ten-cup water reservoir
Five grind options
Built-in burr grinder
Stainless steel carafe
Brew strength settings
Cons
Smaller than average bean hopper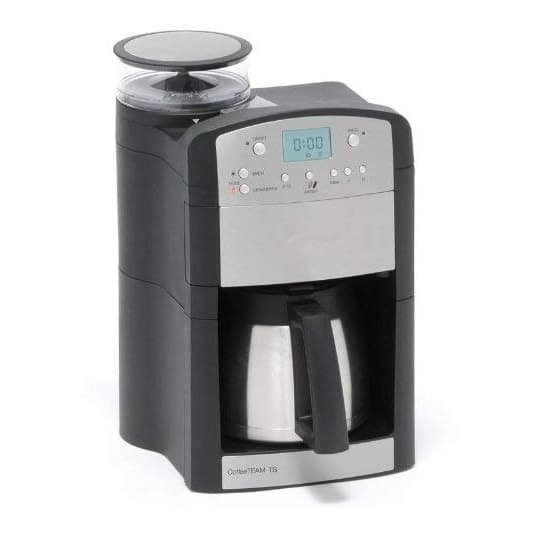 Related Questions
I need a Coffee Machine with a Larger Water Reservoir
If you're looking for a coffee machine that can make more coffee for your busy household in the morning, we recommend the Cuisinart DGB-700BC Grind & Brew Coffee Maker. This model is available at a comparable price and allows you to brew up to twelve cups of coffee per pot instead of ten cups.
Can I Grind My Beans Without Using the Built-in Grinder?
Yes. For a bean grinder, the included burr grinder is fairly quiet, but if you're concerned about waking family members, you can actually grind the beans by hand using a mortar and pestle, rolling pin, or other tools around your kitchen.
If you'd like to learn more, be sure to read our article on how to grind coffee beans without a grinder.
Can This Machine Brew Espresso?
This isn't a hybrid model that comes with a frother and other tools you'll need to brew a batch of espresso.
If you're looking for a multitasking coffee maker that will allow you to make your favorite espresso-based drinks, read our coffee machine buyer's guide where you can get a look at the top hybrid coffee makers on the market.
Capresso 465 Review: Conclusion and Rating
Product Rating: (4.5/5)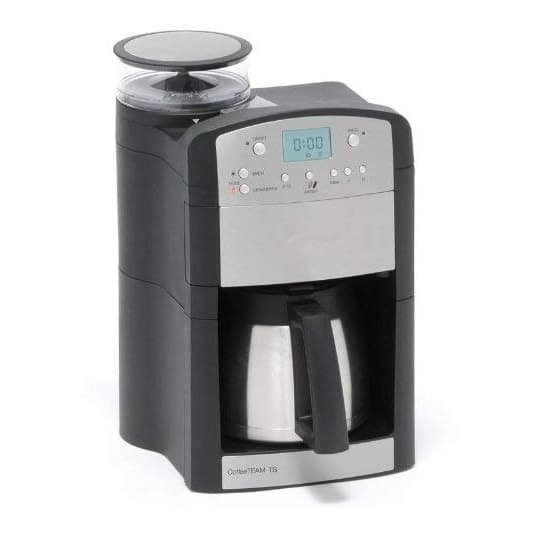 The 465 by Capresso is the ultimate automatic coffee machine. Set your brewing process for the perfect time in the morning and wake up to a fresh pot of coffee.
The program options including grind fineness and brew strength, giving you more control over the taste of your brew. The charcoal water filtration system removes up to eighty percent of impurities from your water, ensuring the quality of the water doesn't negatively impact the taste of your coffee.
Basically, this is a coffee maker that has it all. We gave this model a rating of four and a half stars out of five.