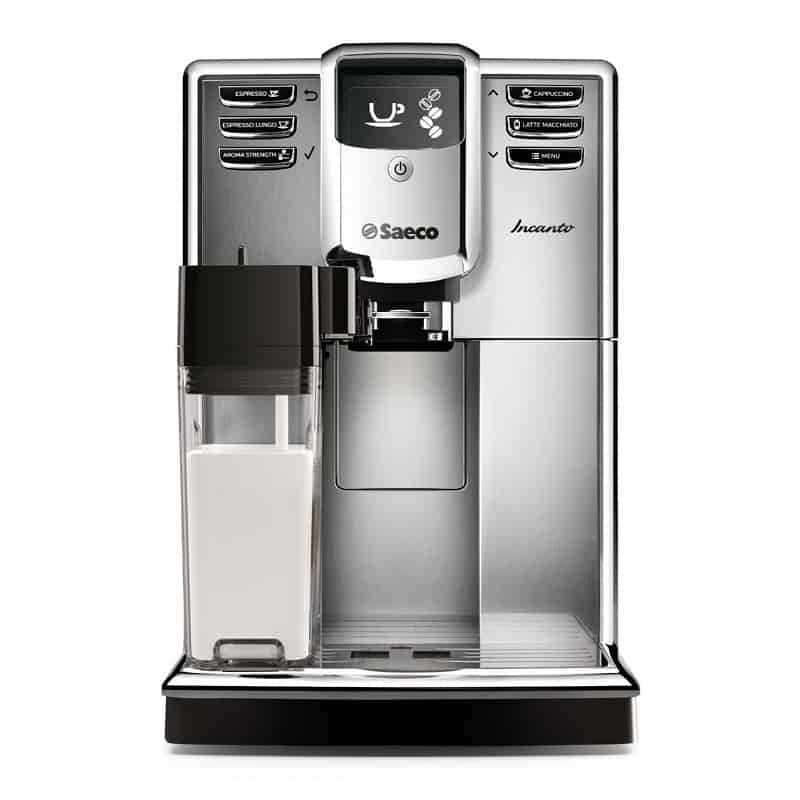 The Saeco Incanto Carafe is a super automatic espresso machine that allows even complete beginners to brew a perfect cup. As loaded as it is with features, it should come as no surprise that it has a price tag to match.
You get a lot of value for your money though. All the components are high quality and the machine comes with a built-in grinder and a water filtration system. The only real weakness is that the grinder is a ceramic blade grinder, not a burr grinder.
Our Verdict
This highly automated machine is great for a small coffee shop or a family that likes to enjoy a variety of coffee-based drinks, but doesn't want to worry about the specifics of making them. The machine will take care of every thing.
The memo function lets you save your settings, so that you can repeat a brew you particularly liked over and over again. This feature is especially valuable in a coffee shop, where you want to ensure consistent quality.
This espresso maker works great as a machine for a small coffee shop or an office, or as a luxury model for a family. Let's take a closer look at all the features.
Saeco Incanto Carafe Review: Overview and Features
This easy to use coffee machine complete with a built-in grinder allows you to pull shots and make dessert coffee drinks like a pro.
This is a digital espresso machine that comes loaded with a wide range of features that allow you to precisely control the brew quality. Its tough stainless steel construction shows us it's designed to last, but its modern look will also blend in well with the other appliances in your kitchen.
Saeco Incanto Carafe Super Automatic Espresso Machine
Filter
The type of water you use to make your coffee can impact how it tastes, especially if you have hard water.
Many coffee enthusiasts will turn to distilled water instead of tap, but even distilled water can contain chemicals and minerals. The minerals in the water can cause mineral deposits in your coffee maker, which can make your coffee taste bitter and stale.
So, what's the solution?
This new model from Saeco comes with the Aqua Clean filter. The filter will last for up to five thousand cups of coffee before it needs to be replaced.
Grinder
The built-in ceramic blade grinder is quiet-running and produces a consistent grind. It features a total of five grind settings so you can grind the beans depending on the type of drink you're making.
As an example, if you want to pull a couple of shots of espresso, you'll use a finer grind. If you want to make a regular cup of coffee, you'll choose a coarser grind.
But the fact that this machine comes with a ceramic blade grinder may disappoint some. Typically, higher-end coffee makers will come with a burr grinder, which offers a superior performance.
Burr grinders are known for their ability to grind beans to the perfect consistency, while blade grinders just can't, especially ceramic blade grinders. If you have to use this type of grinder, stainless steel is the best way to go. Ceramic blade grinders aren't known to last as long as their stainless steel counterparts.
Overall, we found that this grinder performed how it should.
However, if you notice a change in the strength or quality of your brew, check the coffee grounds for large particles of coffee beans. This will indicate that the grinder is not grinding the beans down to the right consistency. Large pieces of unground coffee beans are often to blame for weak coffee.
Memo Function
This highly programmable coffee maker offers a feature you won't commonly find on competing models. The memo function will remember the exact way you take your coffee, so you can simply hit the brew button in the morning and enjoy coffee that's perfectly brewed just the way you like it.
Water Reservoir and Bean Hopper
The machine's water reservoir can hold up to fifty-four ounces of water, which can produce up to fifteen cups of coffee.
The bean hopper can hold up to nine ounces of coffee beans.
Programmable
As we mentioned earlier, this machine is highly programmable. Aside from adjusting the brew strength and grind coarseness, you can also adjust the water temperature, the length of a brewing process, and take advantage of the automatic shut off feature.
Integrated Milk Frother and Carafe
The steam wand allows you to froth cow's milk, almond milk, or soy milk, for your favorite coffee-based drinks including macchiatos, cappuccinos, lattes, and more.
The integrated frother can instantly provide hot milk for frothing. Press a button to use the quick cleaning function which makes clean up a cinch. To use, press the quick clean button to rinse out the integrated carafe between uses.
Six Coffee Beverage Settings
To say this coffee machine and espresso maker is beginner-friendly would be an understatement. With just the touch of a button, the machine will set to work.
Drink options include:
Milk froth
Latte
Macchiato
Espresso lungo
Cappuccino
Espresso
Pros
Adjustable grinder
Six beverage options
Automatic quick clean function
Large water reservoir
Integrated milk frother and carafe
Aqua Clean water filter
Cons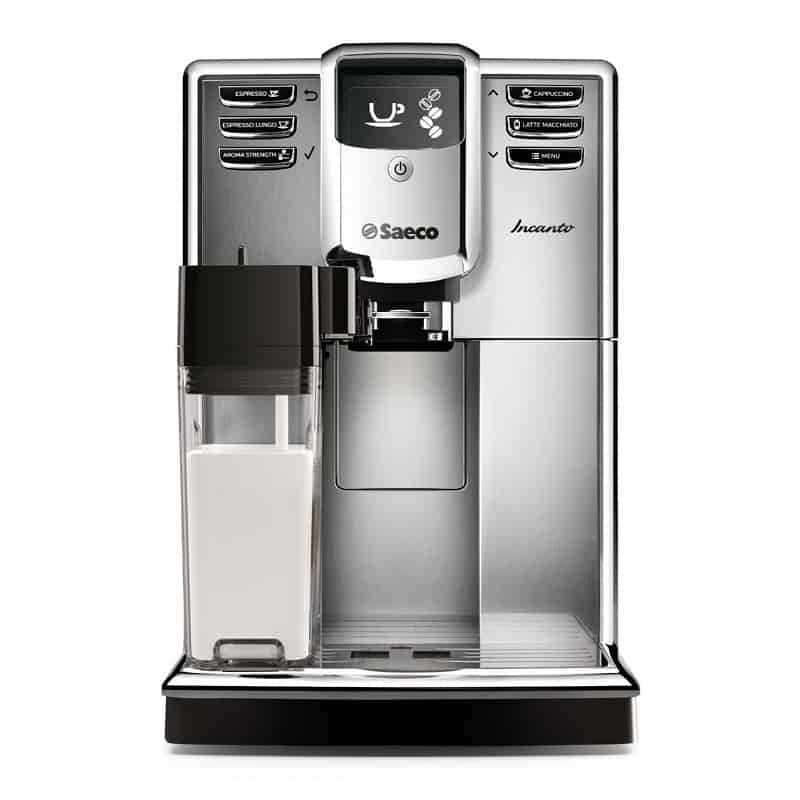 Related Questions
What's the Best Way to Drink Espresso?
If you want to learn how to drink black coffee for all the health benefits, including weight loss and a boost in metabolism, a rich cup of plain espresso can be the answer.
This model comes with a variety of drink option settings, all of which are espresso based, but if you want to enjoy natural coffee, nothing is better than a shot of espresso.
Many of the espresso-based drinks can contain a lot of sugar, especially if you add flavored syrups. Since this model also comes with a bean grinder so you can enjoy freshly ground coffee, we recommend drinking the espresso black in order to enjoy its full, rich flavor.
Can You Recommend a Coffee Maker with a Built-in Burr Grinder?
If you're not a fan of the Incanto's built-in ceramic blade grinder and would prefer a model with a burr grinder instead, we recommend the Capresso 465 CoffeeTeam TS 10-Cup Digital Coffeemaker with Conical Burr Grinder. This coffee machine comes loaded with many of the same features, except it has a ten-cup capacity instead of the fifteen you'll get with this model.
Where Can I Get a Replacement Filter for this Coffee Maker?
The manufacturer claims the same filter can be used to make up to five thousand cups of coffee. If you need to replace the filter, you can purchase a new one straight from the manufacturer's website, or contact the customer support team to find out which retailers may carry the replacement.
Saeco Incanto Review: Conclusion and Rating
Product Rating: (4.5/5)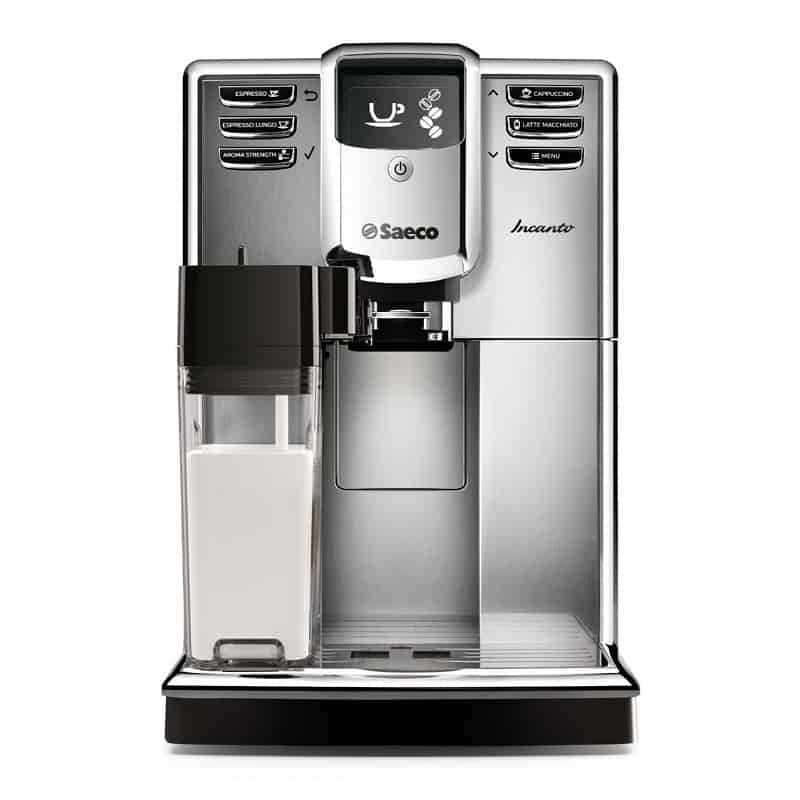 If you and your family love experimenting with coffee drinks, love espresso, and want a coffee maker that's built to last, then you'll love how durable, versatile and easy to use this model is.
The Incanto by Saeco is one of the best coffee machines with grinder on the market, thanks to its variety of beverage options, water filter, automatic cleaning feature, memo function, and more. Highly programmable, you can enjoy your coffee or espresso just the way you like it, each and every time. We gave this model a rating of four and a half out of five stars.