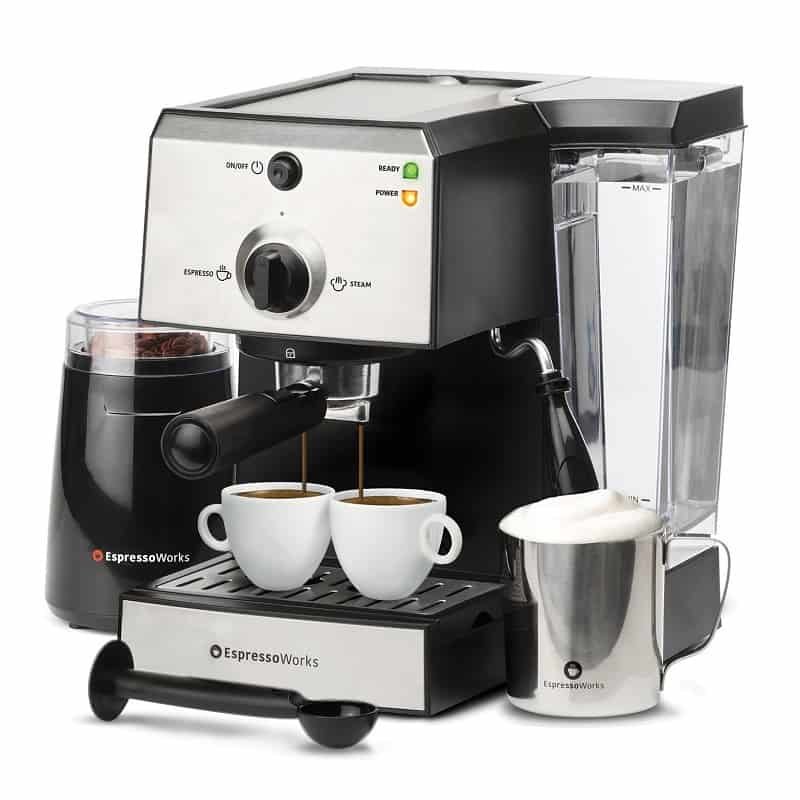 The Espresso Works All-In-One Coffee is a great little machine that can do everything. It grinds your beans and brews them into a great cup of espresso. Or two cups, if you choose the double shot mode.
It includes a milk frother so that you can make any number of milk-based coffee drinks, like a cappuccino, a latte, an americano, or a macchiato.
It does all of this at a great price, but naturally, the low price means there are a few drawbacks. The biggest is the grinder. It is a blade grinder, not a burr grinder.
Our Verdict
This all-in-one machine is great for anyone who wants to enjoy various milk-based coffee drinks, because it comes with a high-pressure frother and frothing cup. It is especially good for families, since it has a large water reservoir and allows you to pull two shots at once.
If you prefer plain espresso, this may not be the best machine, since it has a blade grinder, which could result in an uneven grind that will be more noticeable in a drink without milk.
And if you prefer regular coffee, you should definitely look at a different machine. You'll find the best options here.
This espresso maker may not contain the highest quality components, but you're getting a very versatile machine at a low price. Let's take a more detailed look.
Espresso Works All-In-One Review: Overview And Features
This is a grind and brew machine like no other. If you're in need of a coffee machine that will give you ultimate control over the brewing process and allow you to do it all including grind coffee beans, pull shots, and drip brews your favorite coffee, then this model by Espresso Works is the machine you've been searching for.
Espresso Works All-In-One Coffee Maker
Inside The Package
This set comes with the following accessories:
Tamper
Milk frother
Milk frothing cup
Measuring spoon
Electric grinder
Portafilter
Grinder
This model is equipped with a blade grinder, which can be a drawback for some coffee enthusiasts. Blade grinders aren't known for their consistent grinds like burr grinders are.
This means the grinder may be unable to grind the beans down to the same consistency. If the grinder leaves large chunks of coffee beans in the grounds, this can affect both the taste and strength of your coffee.
If you notice that the strength of your brew changes from one batch to the next, check the filter and look at the coffee grounds. If you find large particles of coffee beans, then the blade grinder is the culprit.
Set Up
At first glance, this coffee machine may look difficult to operate, but that couldn't be further from the truth. Once you assemble the machine you can easily learn how to make a cappuccino or pull a shot in ten minutes or less. In fact, the machine boasts a brew time of just forty-five seconds.
To use, you'll begin by grinding the beans, then hit the brew feature. And that's all there is to it.
Water Reservoir
The transparent water reservoir can hold up to forty-two ounces and allows you to easily monitor the water level. It also comes equipped with a built-in handle, for fast and easy removal and fill-ups.
Pump Design
You can't make great tasting espresso if the machine you're using has a weak pump. Fortunately, this model comes with a fifteen bar pressure pump system. Thanks to the powerful pump you can make your own cappuccinos, lattes, americanos, espresso, or macchiatos, all in the comfort of your home.
Shots
Equipped with a dual stainless steel portafilter basket, you can choose between pulling single or double shots.
Automatic Shut Off
One thing you may have noticed with most models of espresso machines it that they have to be shut off manually. Most coffee enthusiasts prefer models that automatically switch off as soon as you're finished brewing.
Automatic shut off is a great safety feature, so we were really happy to learn that this machine will automatically shut off twenty-five minutes after the coffee is brewed.
Coffee Cup Size
You won't be able to fit a traditional sized coffee cup under the brew heads, instead, you can only use espresso cups. Fortunately, this set comes with two.
Milk Frother
Most people will struggle with pulling their first shots or mixing up a fancy milk-based drink because traditional espresso machines can be complicated to use. Using this machine, on the other hand, is very simple.
It comes with very basic controls, buttons, and knobs that will allow you to create your own espresso-based drink in a matter of seconds. However, when it comes to frothing milk, you'll want to avoid a common rookie mistake which is pouring too much milk in the frother cup.
Overfilling the cup can result in a huge mess. We recommend filling it only half full. Additionally, steaming milk is easy, even if you use low-fat, almond, or soy milk.
Pros
Choose between single and double espresso shots
Grinder
Easy to clean
Allows you to make a variety of coffee drinks
Cons
Blade bean grinder may struggle with grind consistency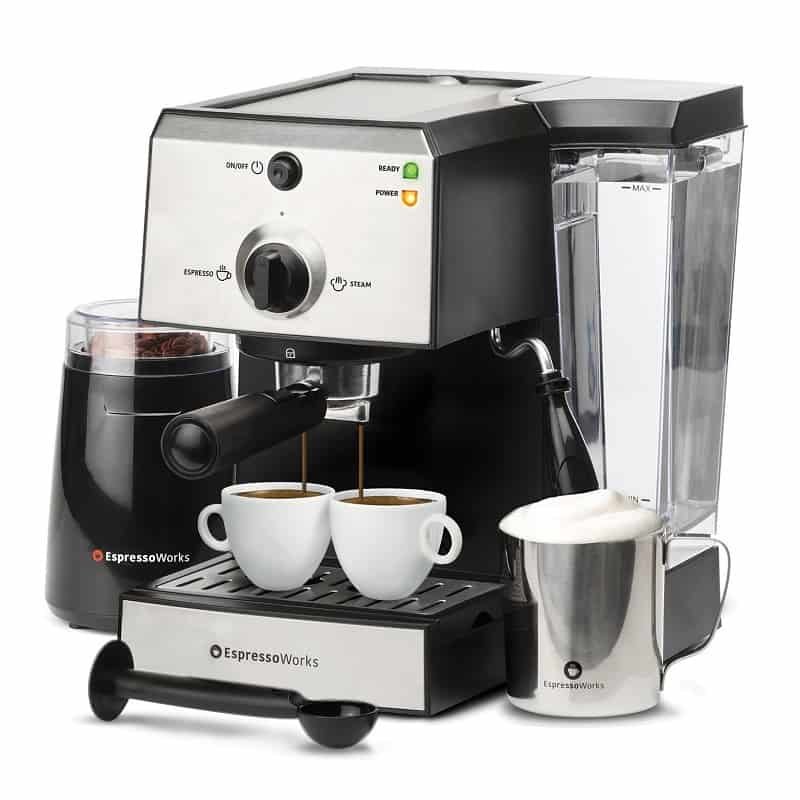 Related Questions
How Much Espresso Does this Machine Brew at Once?
The standard size espresso shot is one ounce, so a double shot will be two ounces. This machine is incredibly fast, so you can pull a single or double shot in just thirty seconds or less. The included espresso cups can hold a little over three and a half ounces of coffee.
What is Espresso?
Espresso is a concentrated form of coffee that is consumed in smaller servings, compared to traditional coffee.
Espresso is made by forcing hot, pressurized water through ultra-fine coffee grounds. Espresso has crema, unlike traditional coffee. Crema is a type of reddish-brown froth that forms once the soluble oils and air bubbles are combined and it's what adds a rich, strong flavor to the espresso.
If you've often struggled figuring out how to drink black coffee, espresso can change all of that. It has a much stronger taste compared to traditional coffee beans and contains just as much caffeine.
But you don't have to drink your espresso black. In fact, it's often the base of many popular coffee drinks, including macchiatos, cappuccinos, lattes, and more.
Does This Model Have A Water Filter?
Unfortunately, no. Many people don't realize that water quality and flavor can have a big impact on how their coffee tastes.
Not every coffee machine will come with a built-in water filter, but if you're concerned about water quality, you can just use bottled distilled water instead of tap.
If you're looking for a coffee maker with a built-in water filtration system we recommend the Saeco Incanto Carafe Super Automatic Espresso Machine with AquaClean filter.
Do I need to use the Bean Grinder Every Time I Make Espresso?
The included bean grinder is not built into the coffee machine itself, instead, it's a separate appliance.
You don't have to use it to grind your beans immediately before you pull a shot or two, but using freshly ground beans for your espresso will ensure a better, fuller flavor. If you'd like to learn more about the importance of grinding your coffee beans before you brew, read our coffee machine buyer's guide.
Espresso Works All-In-One Review: Conclusion And Rating
Product Rating: (4.5/5)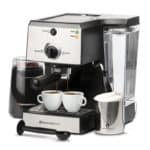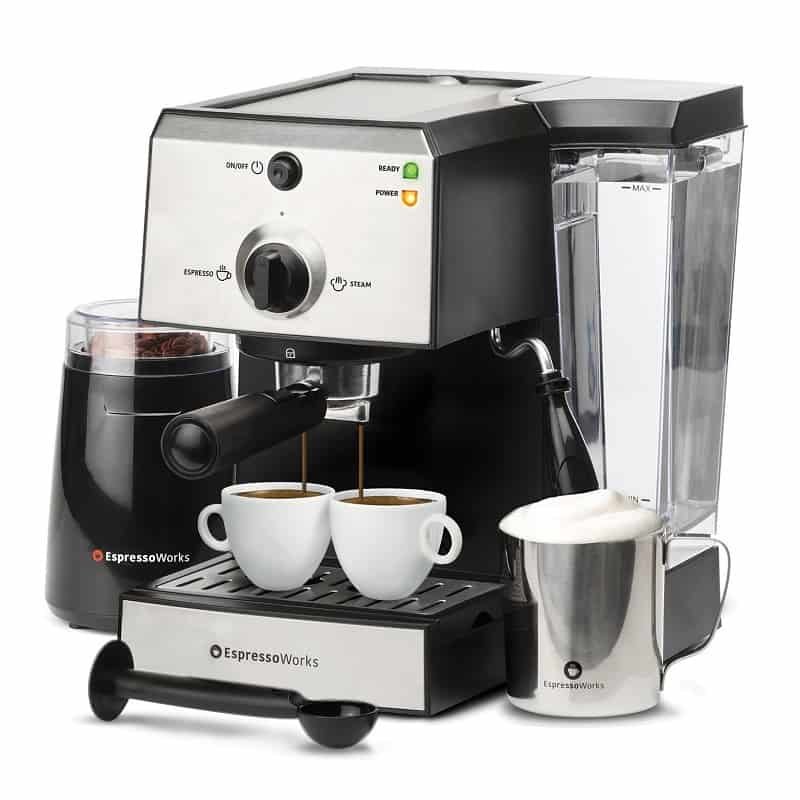 This coffee maker by Espresso Works comes with everything you need to pull shots or create your favorite coffee-based drinks. The tough pump system tells us that this is a machine that's designed to last.
The beginner-friendly design makes it easy to create complex coffee drinks in the comfort of your own kitchen, so you'll save a ton of cash each month. We gave this model a rating of four and a half out of five stars.