Coffee is expensive.
These days, there are over one hundred species of coffee plants, which gives us an impressive variety of blends and flavors to choose from.
Unfortunately, most of them are quite pricey.
If you're tired of spending five to ten dollars a day at your local coffee shop, then buying a coffee machine with grinder may be the perfect solution.
Not only will it save you money, but it will also allow you to make coffee precisely the way you like it.
There are many coffee machines to choose from including capsule coffee makers, single serve, drip coffee machines, French presses, and more. But the combination coffee maker and grinder models are without a doubt, the most convenient to use.
But because there are literally dozens of coffee makers to choose from, finding one that's designed to handle heavy daily use without quitting on you six months down the line can be a challenge.
We've done all the hard work for you by researching and reviewing many top-selling coffee makers and looking at everything from grinder quality, pump design and boiler power.
After spending time reviewing model after model we finally narrowed down our choices to the five best coffee machines with grinder.
We chose models that in a variety of price brackets, so you'll be sure to find a coffee machine that will work with your budget and meet your coffee drinking needs.
You'll find details on each coffee maker below. First we've got a detailed comparison chart, so you can compare the top models at a glance.
Top Coffee Machines With Grinder Comparison Chart
A Coffee Maker You Can Count On
Ask any regular coffee drinker what's the worst thing that could happen to them in the morning and they'll tell you it's when their coffee maker quits on them.
Most coffee drinkers rely on their brew to help them wake up in the morning and get them going. Discovering that the coffee machine you just purchased a few months ago has died can be devastating.
The model's we've included on our list have a reputation for both power and durability. These are the coffee makers that are equipped with impressive pump and boiler power.
Below, we've included summaries of each model that will list some of their best features and the rating they earned.
Best Coffee Machine With Grinder: Reviews
Here you'll find brief reviews of each of the top machines. We've also got in-depth reviews of each, which you can find by clicking on the button beneath each brief review.
Best Coffee Maker With Grinder Overall: Cuisinart DGB-700BC Grind & Brew 12 Cup Coffee Maker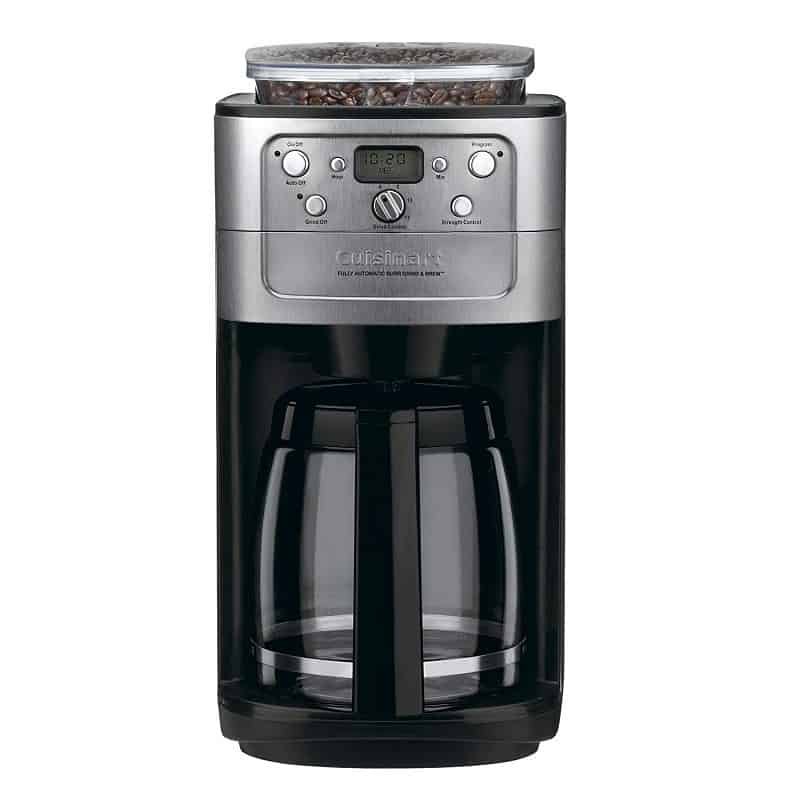 Our Rating: (5/5)
The DGB 700BC Grind and Brew by Cuisinart comes with some great bells and whistles including a built-in burr grinder, an eight-ounce bean hopper, program options that allow you to choose the consistency of the grind, brew strength, and brew size.
It allows you to set the brew time, so you can wake up in the morning to freshly brewed coffee, without the wait. The included reusable coffee filter reduces waste and is easy to clean.
The charcoal water filtration system removes chemicals and impurities from your drinking water, ensuring you drink only the best tasting coffee. Additionally, the filter also prevents calcium deposit build-up, which is can cause your coffee to taste stale and overly bitter.
One of the most popular features is the brew pause. If you're impatient waiting for your coffee to finish brewing then you'll love this feature. Brew pause allows you to quickly pour a cup of coffee as the machine halts the brewing process, so there's no mess and no waiting.
Most Multi-Functional: Espresso Works All-In-One Coffee Maker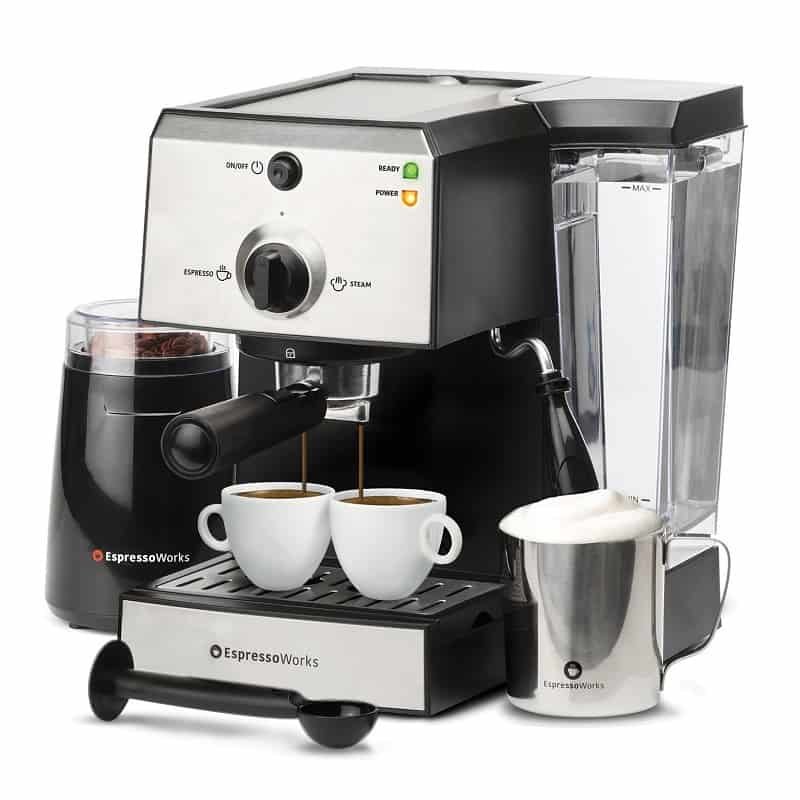 Our Rating: (4.5/5)
This Espresso Works coffee maker features a built-in blade grinder, a large forty-two-ounce water reservoir, and a fifteen bar pressure pump system that will supply the steam wand with enough juice to froth your milk to perfection. Pulling shots with this machine is simple and fast.
Many people want to learn how to drink black coffee because it's a much healthier option than sugar loaded coffee drinks. But if you have the wrong coffee machine, black coffee tends to taste overly bitter, which can make it difficult to drink.
If you'd rather create your own espresso-based drinks, this machine also allows you to make your own cappuccinos, macchiatos, and lattes. It ensures that your espresso tastes the way it should, which is dark and rich and loaded with crema. With this machine, you can choose from single or double shots and watch as the machine produces a single shot in under thirty seconds.
Best for Small Coffee Shops: Saeco Incanto Carafe Super Automatic Espresso Machine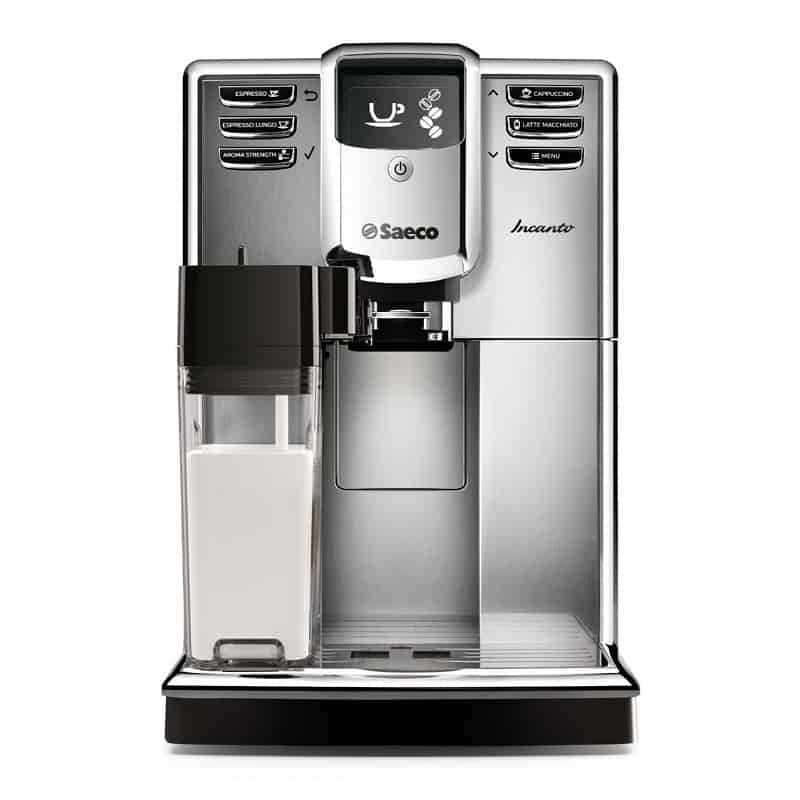 Our Rating: (4.5/5)
The Incanto coffee machine by Saeco is a digital model that allows you to choose from six espresso-based drink options and comes with a built-in grinder and water filtration system.
It also comes with the popular Memo function. This feature will remember the settings you've chosen, including drink type, brew strength, water temperature, and grind consistency. This way, you can enjoy your coffee just the way you like it, with a single push of a button.
Most Quiet: Capresso 465 CoffeeTeam TS 10-Cup Digital Coffeemaker with Conical Burr Grinder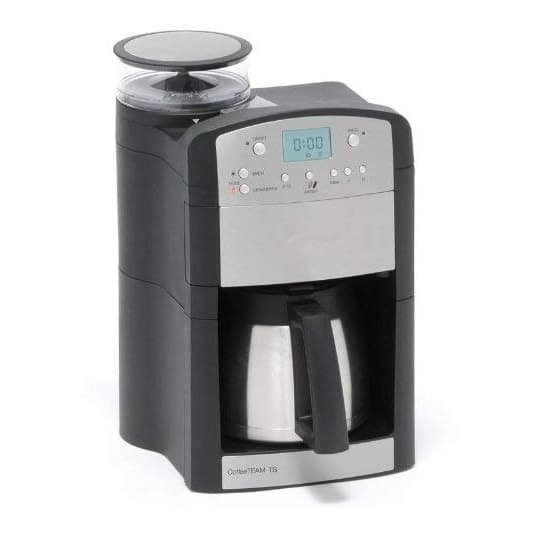 Our Rating: (4.5/5)
This Capresso stainless steel coffee machine is equipped with a built-in grinder and an automatic brewing process that's highly programmable.
The machine will allow you to choose the bean's grind consistency, brewing strength, and brew volume. It also comes with the brew pause feature, which quickly halts the brewing process once you remove the carafe from the warming plate.
Top Double Boiler Design: Breville the Barista Express Espresso Machine BES870XL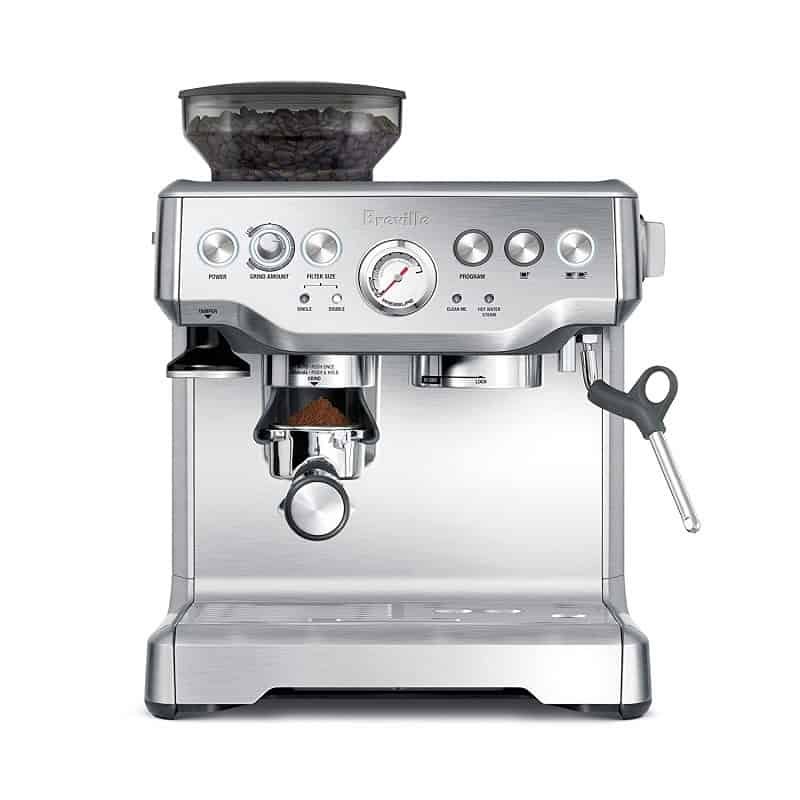 Our Rating: (4.5/5)
The Barista Express may not be the most beginner-friendly coffee machine in our line up, but it's definitely the most powerful. This is a pro-quality machine that comes fully loaded with some great features including the double boiler system that allows you to brew your coffee and steam milk, simultaneously.
The built-in conical burr grind comes complete with sixteen grind options, giving the user more control over the quality of their brew. Users can make single or double shots and enjoy rich, full-flavored espresso, or use the steam wand and experiment by making their favorite espresso-based coffee drinks.
Coffee Machine Buyer's Guide
Many coffee enthusiasts know the importance of fresh-ground coffee beans, but the casual coffee drinker may not.
Many of us will buy a bag of pre-ground coffee beans, simply because it's more convenient. With pre-ground beans, all you have to do is simply pour the grounds into the coffee pot's filter, add water, hit start, and that's it.
But if you've ever enjoyed a cup of coffee made from freshly ground beans, you can immediately tell the difference.
The beans used for pre-ground coffee are ground up at the time the coffee is processed and packaged. Essentially, you're drinking coffee that was ground several months ago.
Instead of the beans locking in the coffee's flavor, the ground up beans tends to lose that rich, full flavor that comes with grinding your beans the same morning you drink your coffee.
So, what's the solution?
Total Convenience at a Price You Can Afford
Enter the coffee maker with the built-in grinder. This all-in-one miracle allows you to quickly grind up your beans, fill the filter, power up your coffee machine and you're good to go.
But there is a problem.
Ever since Starbucks took over the coffee industry, coffee has been bigger than ever before. With this rise in popularity comes higher priced coffee makers that come loaded with a wide range of bells and whistles, all of which promise to make you the best cup of coffee you've ever had.
This huge flood of coffee machines on the market can make it difficult to find the right model that can actually produce a great tasting cup of coffee.
Knowing which features new models now offer (and which are actually useful), what to look for in terms of performance, water capacity, and design, can help you narrow down your search and find a coffee machine that's easy to use and clean, and one that will have you driving right by Starbucks to make your own special brew at home.
Programming Options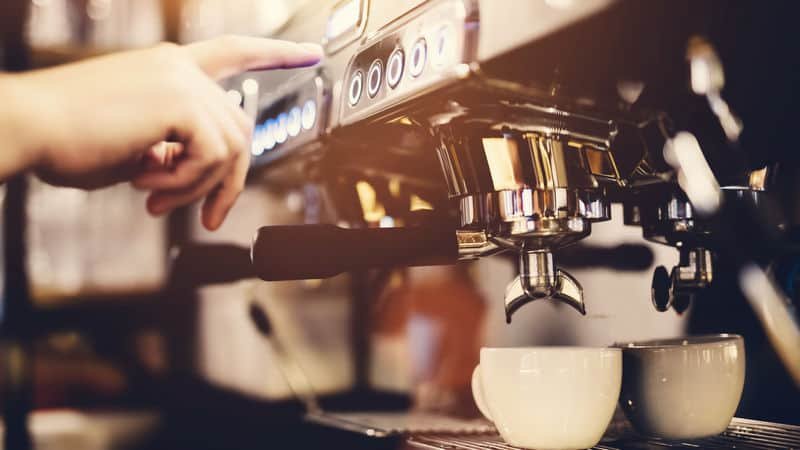 For many of us, a coffee machine that makes our lives easier is the goal. That is why many leading models are highly programmable.
This type of convenience comes in the form of a variety of brewing times and options. Want to wake up in the morning to the smell of a freshly brewed pot of coffee?
Then you'll need a model that allows you to set a timer, so you won't have to struggle through the motions of making your coffee when you're half asleep.
Coffee, Espresso, or Both?
These days, coffee maker manufacturers are upping their game in terms of functions and features.
If you love thick, powerful espresso and rarely drink regular coffee, then an espresso machine is the way to go. The opposite is true if you rarely drink espresso.
But what if you or someone in the home enjoys that occasional cup of coffee and the occasional espresso?
Hybrid models hit the market running, providing home coffee drinkers with the best of both worlds. Now, you can enjoy fresh coffee and espresso in the comfort of your own home with one of these hybrid models.
Of course, since the machine is capable of brewing both types of coffee, you can expect the price to be much higher than a standard coffee machine.
Brewing Capacity
You can save plenty of cash and purchase a single cup coffee maker, complete with a built-in grinder, if you're the only one in the home who drinks coffee.
But if you have an entire household of coffee drinkers, then you'll need to pay close attention to a machine's brew size.
Some models will offer more brewing options than others, which can make it easier for you to expertly measure out the right amount of coffee for the perfect pot. Others will only feature one or two setting options, for half a pot or a full pot of coffee.
More brewing options will also equal a higher price tag.
But if you live with several coffee drinkers, then a coffee machine's brewing capacity is important and worth the higher cost. The standard sized coffee pot can only handle eight to ten cups of coffee per pot, while larger pots can handle up to twelve.
You should also keep in mind that the average-sized cup of coffee is just six ounces, while a large coffee is sixteen ounces.
Stay Warm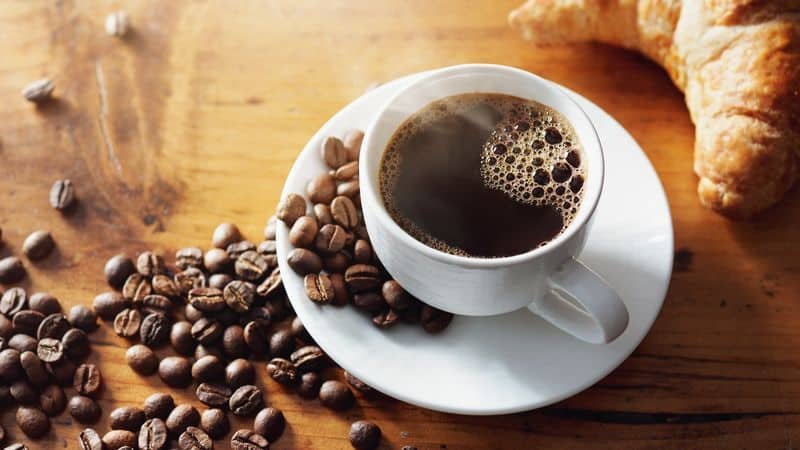 The stay warm feature is commonly found on most coffee machines these days, but not many lower-priced coffee makers will give you options in regard to how long the pot should be kept warm.
If you find yourself in a panic several times a week when you're on your way to work, because you got to the office and realized you forgot to shut off the coffee maker, then this feature is for you.
Machines that give you stay warm options allow you to set the warming plate for one to eight hours, after which point the machine will automatically shut off.
Space-Saving Design
Most heavy-duty coffee makers aren't exactly known for their compact designs. So, if counter space is an issue for you, then you'll want to bypass many models and opt for a single-serve coffee maker.
If you need more coffee maker power, then simply measure the available counter space you have to work with and pay close attention to the dimensions of each model in which you're interested.
Brewing Options
You may prefer a weak cup of coffee in the morning, especially if you're caffeine sensitive, but your significant other may want to drink their coffee strong, dark, and thick in order for the coffee to really work its magic.
That's where brewing options come in.
Highly programmable coffee makers allow you to set the pot size, and the brew strength. Some models may have a few options while others will come loaded with so many brew options you'll be excited to experiment with your next cup of coffee.
But we can guarantee that most will come with mild, standard, and rich coffee settings, at the very least.
Hot Water
If you have hot chocolate or tea drinkers in the home, then a machine with a hot water spigot is a huge plus. However, hot water spigots are mainly found on higher priced models, so keep this in mind if you're shopping on a tight budget.
Self-Cleaning
Some coffee makers are easier to clean than others. A coffee maker doesn't need to be cleaned out after each use, but over time, if you fail to keep up on proper maintenance, it can negatively impact the taste of your coffee.
Find a machine that has removable components that are dishwasher safe. Higher priced coffee machines will come equipped with a self-cleaning feature, which will come in handy if you don't have time to clean your machine by hand.
Burr and Blade Grinders
If you know how to grind coffee beans without a grinder, then you know how time-consuming this process can be, not to mention how difficult it is to achieve a consistent grind.
These days, coffee makers come with built-in bean grinders for a fully automatic brewing process that involves grinding the coffee beans immediately before brewing a pot.
Did you know the type of coffee bean grinder you use can also affect the taste of your coffee?
Most models of coffee makers with built-in grinders will either come with a blade grinder or a burr grinder. Both types will each have their own pros and cons, but for the most part, coffee enthusiasts tend to prefer the burr grinder.
Blade Grinders
This type of grinder chops up the beans instead of grinding them, with the use of stainless steel blades that are shaped into a propeller. Most coffee makers will allow you to control the fineness of the grind, but this is often more a matter of allowing the grinder to work for a longer period of time.
Basically, the longer you run this grinder, the finer the grind.
Blade grinders are usually found on lower priced coffee makers. Their big drawback is grinding consistency.
In general, these coffee grinders are not able to grind the beans well, so you may notice larger flakes or chunks of coffee beans among the grounds.
This can be an issue since the heat that's generated by the friction of these larger pieces of coffee beans can negatively impact the taste of your brew.
If you want to prevent this issue, make sure you stop the grinder frequently during the process. The longer the grinder is left going without any breaks, that more heat that's generated by the blades. This can result in coffee that tastes burned or too bitter.
Burr Grinders
The burr grinder is made up of a couple of abrasive disks that work together to break the coffee beans down to a specific size. The burr grinder will definitely give you a more consistent grind than the blade grinder can.
Having this type of control over your grind is important since the uniform particle size of the coffee beans can equal a cup of coffee that tastes amazing.
Maintaining Your New Coffee Maker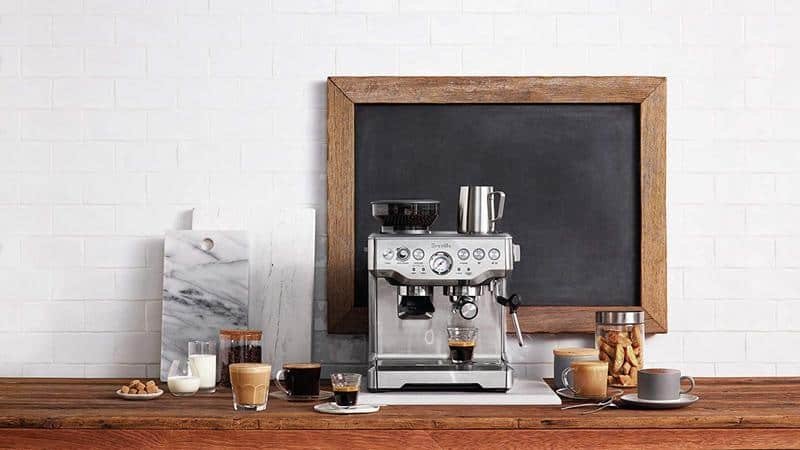 If you regularly clean your new coffee machine at least once a week, you can easily prevent the coffee residue from turning into mold.
When you brew a pot of coffee, residue remains inside, which can affect the taste of the next pot of coffee, leaving it tasting bitter.
Cleaning your coffee maker can be a process, but once you find a method that works for you, you'll find that cleaning it out on a weekly basis will only take a matter of minutes.
One of the best ways to clean out a coffee machine is to brew a pot as usual, but instead of adding coffee grounds, just pour a 50/50 mixture of water and white wine vinegar.
After the mixture has brewed, rinse out your coffee machine with warm water. Once the coffee machine is totally dry, the vinegar smell will dissipate.
If your coffee still tastes off after you've cleaned it using vinegar and water, then you can wash it out and wipe it down using dish soap and warm water.
How to Prevent Mold
If your coffee maker is left to dry on its own between pots of coffee, then the moisture trapped inside can turn into mold and may end up clogging the machine, causing it to overflow or brew a weak pot of coffee. So, after you've washed your coffee machine and carafe, make sure you carefully dry it using a microfiber cloth.
How to Use Your New Coffee Maker
If you're a perfectionist, and one that can appreciate a good cup of coffee, then there are some things you can do to ensure you get the most out of your new coffee maker.
Grind The Beans Right Before Brewing
You want to make sure you grind the beans right before you brew a pot. Coffee tends to lose its flavor just half an hour after the beans have been ground.
Keep in mind that the size of the grind really matters. If it's too coarse than the coffee will taste weak. If it's too fine, then you may end up over-extracting the coffee, which will give it a bitter taste. Most models will require a medium-fine grind.
Let The Grounds Sit
Did you know that the majority of automatic coffee makers are unable to prepare the coffee grounds for full extraction?
You can easily pre-infuse the grounds by pouring hot water over the grounds, wetting them thoroughly. Allow the grounds to sit for one minute before you hit the brew button.
Don't Use Tap Water
If you're using tap water to brew your coffee, then you're doing it all wrong. Instead of using tap water, use distilled.
Most people tend to overlook water quality for their coffee, but if you use hard water that's loaded with minerals, then you may end up with mineral particles floating in your coffee. This can also lead to lime deposits in your coffee maker, which will give your brew a bitter taste.
Final Thoughts
The best coffee machine with grinder can do it all. These automatic coffee makers can brew a full pot of coffee in a matter of minutes, producing the type of rich flavor all coffee drinkers love.
However, not every model is created equal, which is why it's so important that you pay close attention to each model's specs, performance rating, and top features.
Our list of the five top models will help you to narrow down your choices and choose a coffee maker that's easy and convenient to use, and one that won't hit your wallet too hard.