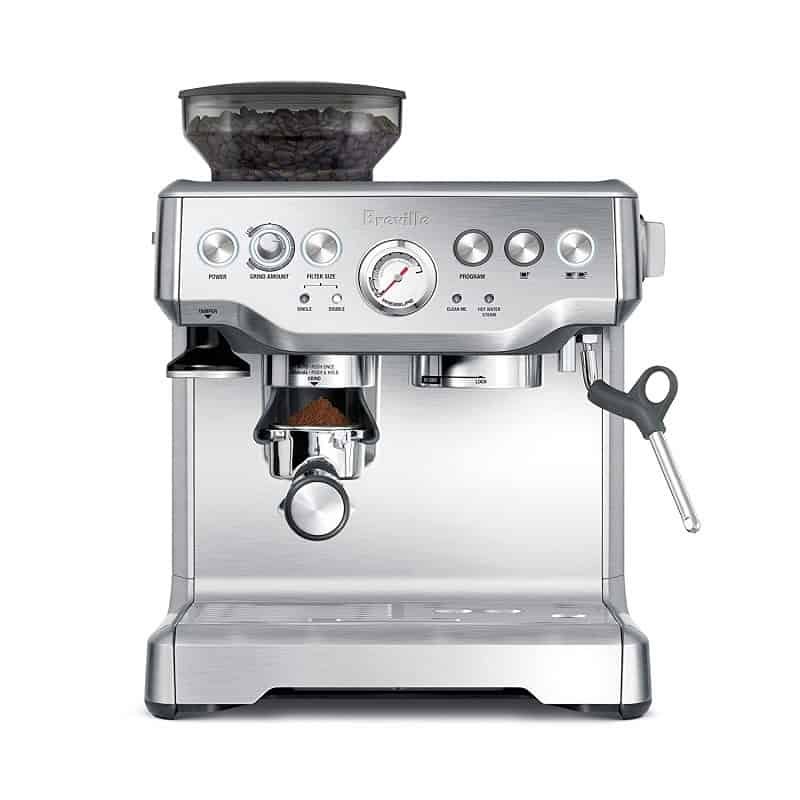 The Barista Express BES870XL Espresso Machine is a fairly high-priced machine, but you get what you pay for. Given the high quality and the numerous features, it is actually a great value.
It also has a built-in conical burr grinder with sixteen different grind options, giving you total control over the quality of your brew. You can pull single or double shots of rich, full-flavored espresso, or use the steam wand and make your favorite espresso-based coffee drinks.
Our Verdict
This is a powerful machine that is not meant for beginners. The higher price and advanced features make it ideal for true coffee enthusiasts.
This is not the machine for someone who just wants a cup of coffee to help them wake up or stay awake. This is a machine for someone who appreciates a full and rich espresso or cafe-quality espresso-based drinks.
This espresso maker is made with high quality components. Let's take a more detailed look.
Breville Barista Express: Overview And Features
The Barista Express is all quality and one of the best coffee machines with grinder in this price bracket. It comes with a pro-quality steam wand, preset shot options, and a low-maintenance design that any coffee maker owner can appreciate.
This is a semi-automatic coffee machine with a brushed stainless steel construction, built-in burr grinder, and a sixteen hundred watt thermacoil system that allows you to precisely control the temperature of your brew.
Breville the Barista Express Espresso Machine BES870XL
Grinder
The stainless steel conical burr grinder comes with an impressive sixteen grind settings, which may be overkill for some buyers, but coffee enthusiasts can appreciate the ability to adjust the grind based on the type of coffee they're brewing.
Bean Hopper
The removable bean hopper can hold up to half a pound of coffee beans, is easy to clean and comes with an airtight lid that will keep the bean's freshness locked in and moisture out.
Portafilter
Thanks to the portafilter, you can choose between single or double shots. There's also a manual shot option.
Steam Wand
The built-in steam wand is perfect for frothing cow's milk, almond milk, or soy milk. It's powerful enough to produce quite a bit of foam, even if you use fat-free or low-fat milk. This is a three hundred and sixty-degree steam wand that's very easy to use. It also has a faster than average warm-up time of just thirty seconds.
Water Reservoir
The water reservoir can hold up to sixty-seven ounces of water.
Cradle Design
Once the portafilter has been placed in the cradle the ground coffee will move directly into the filter. Since this part of the brewing process is automated, the grinder will only grind enough beans for the size of the pot you want to brew.
Raw Power
One of the best features this coffee maker has to offer is its heat exchange boiler system. If you've ever used a low-priced espresso machine before, then you know you can't brew coffee and use the steam wand at the same time because the machine just isn't powerful enough.
But with this model, you can. The powerful heat exchange boiler system will allow you to brew and steam simultaneously, and all while maintaining the right temp.
Lower-priced models only come with a single boiler design, which is why they can't handle the power demand. Often, when you use a single boiler model, the temperature will fall right after you use the steam wand. The thermal coil design in this coffee maker is designed to prevent that.
Additionally, the machine's fifteen bar pump system is more than powerful enough to operate a coffee maker of this size.
Performance
If you have some experience pulling shots, then you'll feel right at home using the Barista Express. However, beginners will struggle to get the hang of this model's many bells and whistles.
Once you've experimented a little you'll find that this coffee machine can definitely deliver a great-tasting cup of coffee, since the machine gives you total control of the grind and brew strength.
The built-in burr grinder is pretty powerful and able to grind up a full pot's worth of beans in a matter of seconds.
The built-in dual pressurized filters regulate the pressure, optimizing the extraction process, so you'll enjoy a richer, stronger tasting cup of coffee. The portafilter ensures that even the beginner can easily brew great tasting coffee.
Additionally, the machine's thermacoil heating system is another feature that plays a major role when it comes to brewing a great pot of coffee. It will regulate the water temperature during the brewing process and promotes optimal distribution of coffee grounds through the coffee puck.
Pros
Thermacoil heating system
Dual portafilter
Pro-quality steam wand
High capacity water reservoir
Sturdy construction
Cons
Price
Not beginner-friendly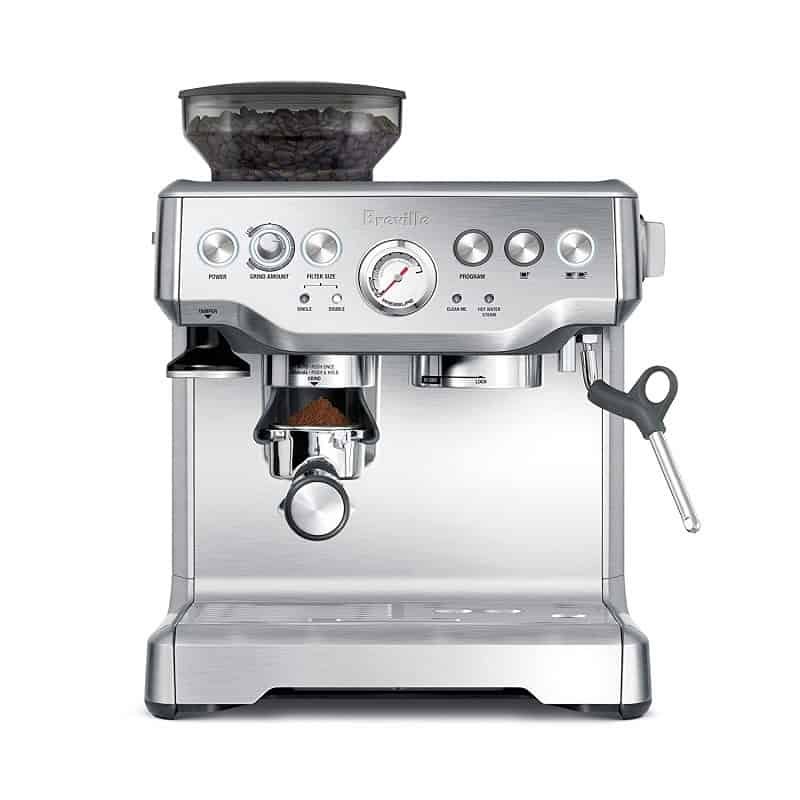 Related Questions
Is There a Budget-Friendly Alternative?
In most cases, you get what you pay for, but if you're on a tight budget there are some good options out there. We recommend the Espresso Works All-In-One Coffee Maker.
This model can perform many of the same functions, however, it doesn't have the double boiler system so you will be unable to steam and brew at the same time. It also has a blade grinder, which does not give you as consistent a grind.
What Type of Grinder Setting Should I use for Espresso?
For espresso, you will need to use the ultra-fine setting. When ground, espresso beans should not be coarse. The goal is to achieve a very fine powder.
For traditional coffee, a coarser grind can result in a weaker tasting brew, but this can also be dependent on the type of beans you buy. If you'd like to learn about how you can enjoy a cup of straight espresso the right way, read our article on how to drink coffee black.
I'm Having Issues with the Steam Wand's Pressure, What am I Doing Wrong?
Before use, the steam wand should be bled for a period of ten to fifteen seconds in order to remove any water.
Place the wand in the frothing cup at an angle, slightly below the surface of the milk. Once the milk is slightly warmed, submerge the wand and steam until the pitcher grows hot.
Before you replace the steam wand on the machine, make sure you bleed it for ten to fifteen seconds. This should do the trick. If you continue to have issues with the steam wand and don't feel that it's getting an adequate amount of pressure, contact Breville's customer support.
Breville BES870XL Review: Conclusion and Rating
Product Rating: (4.5/5)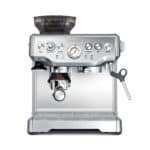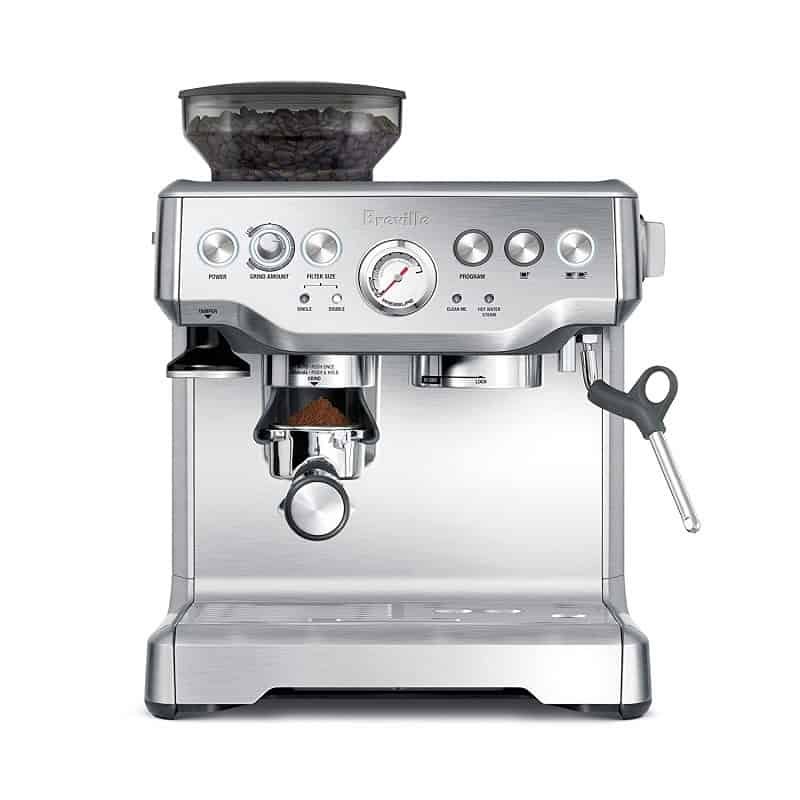 The Barista Express is the perfect machine for the coffee lover who cares about consistently making great tasting coffee.
If you're serious about your brewing, then the thermacoil system, consistent boiler temperature, built-in burr grinder and the variety of settings will give you every reason to buy. We gave this model a rating of four and a half out of five stars.