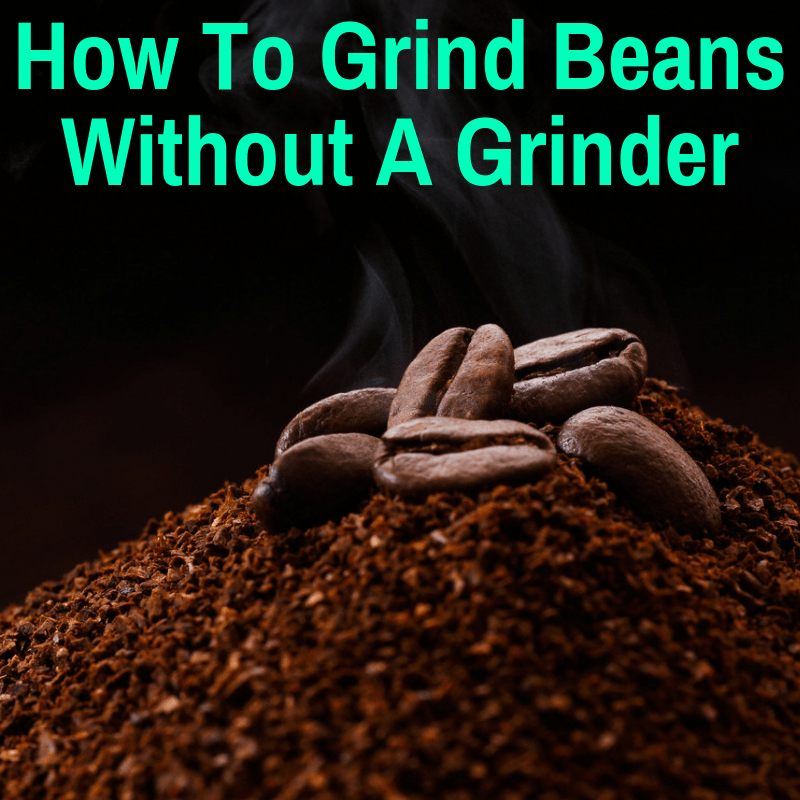 Why learn how to grind coffee beans without a grinder?
Can't I just buy pre-ground beans?
Yes, you can. But any true coffee connoisseur will tell you that pre-ground coffee tastes stale.
The only way to get the maximum flavor from your beans is by grinding them shortly before brewing them.
That's why many of the best coffee makers have a grinder built-in.
The only problem?
They're not cheap.
So how can you enjoy the freshly ground flavor of coffee at home, without spending a ton of money on a grinder?
Read on to find out how to grind your own coffee beans even if you don't have a grinder.
Grinding Coffee Beans Without A Grinder
When you grind coffee beans, you ensure the freshness of your brew. Grinding the beans right before you make a pot of coffee minimizes their exposure to oxygen, which tends to destroy the flavor of the bean.
Most coffee enthusiasts recommend grinding the beans thirty minutes before brewing.
If you normally drink prepackaged ground coffee, or you grind your coffee in bulk, you may notice that your coffee tends to taste stale and bland. The exposure to oxygen is why.
Essentially, if you want to get the most flavor out of your beans, then you'll need to grind them daily.
But if you don't have a coffee grinder on hand or a model like the Espresso Works All-In-One Coffee Maker, which features a built-in grinder, then grinding your beans can be a little tricky and somewhat time-consuming.
But it can be done. And we'll show you how.
Using some basic tools in the kitchen you can easily achieve the same type of consistency and coarseness that you would using a blade or burr grinder.
Tools
If you're going to grind your beans by hand, aside from some elbow grease, you'll need some of the following tools:
Counter space
Cutting board
Plastic bag
Mortar and pestle
Using A Mortar And Pestle
Grinding beans by hand will definitely take longer than using an electric grinder, but once you taste coffee made from freshly ground beans, you'll realize that your time and effort was definitely worth it.
Using a mortar and pestle is probably the most common way people grind their beans by hand. Using these tools you can easily achieve a consistent texture that will ensure your brew turns out exactly the way you want it to.
Additionally, grinding your beans by hand in this manner will give you more control over the consistency of the grind, unlike when using an electric blade grinder.
Here is the process:
Begin by filling the bowl halfway. Overfilling it will just result in a mess and a waste of coffee beans.
Next, hold the pestle with one hand and the mortar with the other.
Press down on the coffee beans, working the pestle, until you've broken down all of the beans.
When the beans are finely crushed, you'll use the pestle to break down the beans further until you've achieved the desired grind. During this time you will need to pay close attention and ensure there are no large particles or chunks of beans in the grind.
Ninja to the Rescue
Ninjas are high-powered blenders that can be used for juicing, grinding, and more. Basically, these are the Cadillacs of blenders.
While you can try using a traditional blender to grind up your beans, some models just don't have tough enough blades to finely grind coffee beans.
If you're lucky enough to own a Ninja, then you can easily use it to quickly grind your beans to a medium-fine consistency.
Here's how:
When you use the Ninja, fill it up ¾ of the way full of fresh coffee beans
For the best results, use the pulse option
When blending, you will only want to use shorter bursts. Just like with an electric blade grinder, you can easily end up burning the coffee grounds if you allow the blender to run continuously. This will cause your coffee to taste bitter.
After you've reached the desired consistency, pour out the coffee and check for large chunks or particles of beans and remove them.
If you plan on grinding in bulk, place the coffee in a Ziploc freezer bag and date it before placing it in the freezer. While we don't recommend grinding in bulk, placing the coffee in the freezer can help to prevent the grinds from going stale and can help to retain some of the flavor. However, if possible, you should always grind your beans right before you make a pot of coffee.
Rolling Pin
If you don't have a mortar and pestle, or a Ninja, then a rolling pin can be the next best thing. The rolling pin will work to finely grind your beans to the perfect consistency, but it can be more time-consuming than the other two methods.
Here's how you do it:
You'll need a large rolling pin and cutting board.
Use a gallon-sized Ziploc bag and fill it half full with coffee beans.
Place the plastic bag between a couple of dish towels.
Hammer the bag of beans with the rolling pin, before slowly rolling over the bag using as much pressure as possible.
Repeat this process, continuing to check the consistency of the grind as you go, until you've achieved a medium-fine grind, which will work for most coffee makers.
Related Questions
How Fine Should I Grind My Coffee Beans?
At times, it can seem like grinding coffee beans is an art form of sorts. A grind that's too fine or too coarse will make for a weak or bitter pot of coffee.
Most coffee enthusiasts can agree that the only way to go is a medium-fine grind. The best coffee makers with grinder will usually come with a variety of setting options, including a medium-fine setting, so you can enjoy a fresh, rich cup of coffee in a matter of minutes.
Why is My Coffee So Bitter?
Despite what many people think, coffee shouldn't taste too bitter. In fact, overly bitter coffee can be due to a number of factors, such as a dirty coffee maker, old beans, or even the water you use.
Many people want to learn how to drink black coffee, because it's a much healthier alternative compared to coffee that's loaded with cream and sugar.
If that's you, but you're struggling with coffee that's bitter and tastes stale, make sure you're grinding the beans right before you brew a pot, clean out the coffee maker at least once a week, and only use distilled water.
How To Grind Coffee Beans: Final Thoughts
Grinding beans without a grinder is harder and definitely more time-consuming than using an automatic bean grinder, but if your grinder broke or you don't have one on hand and you want to enjoy fresh-tasting coffee, it's the only way to go.
Out of all of these methods, we recommend the mortar and pestle technique, which is easy and the process that allows you the most control over the consistency of the grind.