Wondering what the heck "white coffee" is?
You're not alone. That term is everywhere these days, but what is it?
It's not just black coffee with milk, as many think.
White coffee is actually a trendy new way to drink coffee.
Some tout it as the healthiest way to reach peak caffeine. But how much of that is true?
Let's find out exactly what white coffee is and how it differs from regular coffee. More importantly, we'll help you figure out this is a trend you want to join.
What Is White Coffee?
The meaning of white coffee differs from country to country. In Yemen, for example, there is a form of white coffee which is native to this country and it refers to the ground shell of the coffee bean.
In many other countries, mainly English-speaking ones, white coffee means coffee with milk.
And it makes sense, right? I mean, if we say "black coffee" to refer to a cup of coffee with no additions like sugar or cream, why wouldn't we use "white coffee" to refer to a cup of coffee with milk?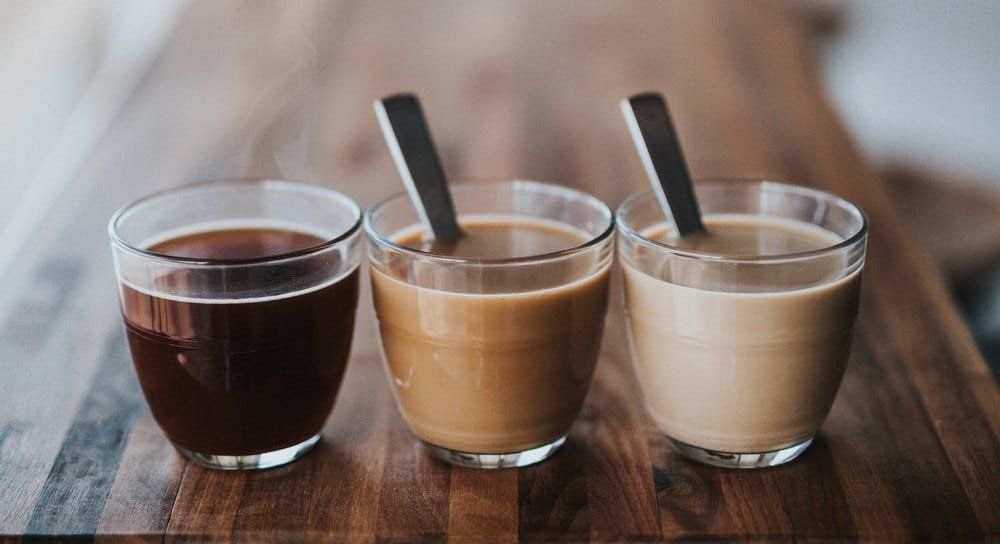 But that's not what we're talking about here.
In countries like Indonesia, white coffee refers to coffee beans that are roasted less than regular coffee beans.
In other words, coffee beans for white coffee are roasted for a short time at low temperatures, while those for black coffee are roasted at higher temperatures for a longer time.
In the USA, coffee beans for white coffee are actually roasted to a yellow roast level. But I guess "yellow coffee" just doesn't sound as appealing.
White Coffee Vs Regular Coffee
I'm sure you've read on many blogs or forums that white coffee is healthier and just all-around better than regular black coffee. But, is that true?
Coffee connoisseurs claim that, thanks to the low roasting temperature, white coffee retains more antioxidants than regular coffee, especially the one known as chlorogenic acid.
Chlorogenic acid not only works as an antioxidant, but it also slows the release of glucose after a meal. This is what is responsible for many of coffee's benefits to our health.
However, there's no scientific proof of that.
And even if it is true, that doesn't make regular coffee unhealthy. Both white and regular coffee can be beneficial to your health if you drink them properly (i.e. in moderation and without any sugar).
The acidity, on the other hand, does change depending on the roasting. Acidity is a term used to describe a range of flavors in coffee. This acidity is attributed to the acids found in the coffee beans.
During the roasting process, the concentration of some of these acids changes. Most of them decrease, but others increase. This means that you can modify the flavor, by adjusting the roasting process.
Therefore, it is the type of roasting that makes regular and white coffee taste so different. While regular coffee is bitter and fruity, white coffee tastes nutty and less bitter.
As you can see, the main difference between regular and white coffee is the roast. The difference in roasting doesn't necessarily make one have more caffeine than the other, nor does it make one healthier.
Both regular and white coffee can give you all the benefits of coffee. Which one you drink is simply a matter of personal taste.
How To Brew White Coffee
The best method for brewing white coffee is a high-pressure brewing method, using an espresso machine, Moka pot, or Aeropress, for example.
When using an espresso machine, professional baristas prefer to run the espresso shot twice. That means, packing a double shot of espresso and running twice the amount of water needed for two standard espresso shots.
You don't need to add anything extra to drink and enjoy white coffee. However, some coffee enthusiasts recommend adding almond milk to enhance the nutty flavor of white coffee.
Although you can brew white coffee at home, the grinding process is not that easy. During the roasting process, coffee beans crack open, similar to popcorn.
To get the yellow roast that is used for white coffee beans, you have to remove the beans from the roasting process earlier, before their first crack. This means they are much more difficult to grind. As a result, you can only grind white coffee beans using a commercial coffee grinder.
If you try to grind white coffee beans using any small mill, it will end up getting damaged. That's why we recommend you buy pre-ground white coffee, unless you have a proper coffee grinder at home.
Where To Buy White Coffee
As mentioned, if you want to try white coffee at home, it's best to buy it pre-ground, unless you have access to a commercial grinder. We put together a list of the best white coffee you can find online. None of them are overly expensive either, so they are a great way to try this new trend!
Poverty Bay Coffee Co. – White Tornado
Poverty Bay has over 30 years' experience of coffee sourcing and small-batch micro-roasting in the Pacific Northwest. This is overall the best white coffee that is easily available online.
Wired Willey's –  White Coffee
Wired Willey's white coffee is shipped fresh from the roaster. It's extremely lightly roasted which makes it lower in acid than a darker roast. Its flavor is nutty instead of bitter.
Espresso Classico – White Gourmet Coffee
Espresso Classico's white ground gourmet coffee is made from 100% Arabica beans. Its grind is fine and it ships fresh from the roaster.
Caffee Appassionato – Caffee Bianco
Caffee Appassionato' Caffee Bianco is an extremely lightly roasted coffee made from 100% Arabica coffee beans. It is low in acidity and hand-roasted to achieve the nutty desired flavor.
Related Questions
Is White Coffee Stronger Than Regular Coffee?
There is the belief that the lighter the roast of the coffee beans, the more caffeine they contain. Many people claim that the roasting process reduces the caffeine content.
For this reason, you will find many blogs and forums affirming that white coffee has more caffeine than regular black coffee.
But the truth is that caffeine content remains stable during the roasting process. And although the caffeine level of each cup of coffee that you make can vary, this has nothing to do with the roast of the coffee beans.
What really affects the caffeine content in your cup of coffee is the way you measure the beans. If the coffee beans are measured by weight, a dark roast coffee will have more caffeine.
When the coffee beans are roasted longer, they tend to lose mass. Therefore, dark roasts have less mass. When weighed, you get more beans, and therefore, more caffeine.
On the other hand, if the coffee beans are measured by scoop, a cup of light roast coffee will have slightly more caffeine because the beans are denser than a darker roast.
But the way coffee is measured is not everything. The caffeine content also depends on the type of coffee bean, the brewing method, and of course, the amount of water.
Does White Coffee Have Sugar?
If you are diabetic or simply want to be healthy, you are probably worried that white coffee may not the right choice for you. Some people believe that white coffee has more sugar content than regular coffee.
Although white coffee is less bitter than regular coffee, this doesn't mean that it contains more sugar. That perception of sweetness is determined by the type of roast.
Light roast accentuates only a few acids that cause a nutty flavor on the coffee beans while keeping the bitterness low.
White Coffee: Final Thoughts
Since white coffee is currently trendy in hipster coffee shops, you will find it marketed as the healthiest coffee drink that you could ever get.
But the truth is that white coffee is just as healthy as regular coffee. As long as you don't add tons of sugar and cream substitutes, coffee is a healthy drink, no matter how long the beans are roasted.
If you are loyal to regular black coffee it's fine. The good news for you is that you are not missing any health benefits by foregoing white coffee. You are simply missing out on a different flavor derived from a different toast.
But if you like trying new things and having new experiences, we totally encourage you to give white coffee a try. You might end up preferring it over your regular coffee.