Wouldn't you love to wake up in the morning with a cup of coffee made from freshly ground coffee beans?
How much better would that taste than bland pre-ground coffee?
Everyone deserves to enjoy the taste of fresh ground coffee at home, without having to spend hundreds of dollars on a coffee grinder!
Many coffee enthusiasts buy whole coffee beans instead of the pre-ground packaged coffee because pre-ground coffee tastes stale. To get the best flavor, you want to grind your coffee beans shortly before making a cup of coffee.
With pre-ground coffee, the flavor just isn't as intense.
But why am I trying to convince you? If you're reading this, you already know freshly ground beans are better.
Your problem is: you don't have a grinder and you don't want to spend a ton of money on one.
Well, you're in luck. There are plenty of other options for grinding beans and a blender is one of them. It can actually work quite well!
Grinding Coffee Beans In A Blender
It might sound a little crazy that a blender can be used to grind coffee beans, as blenders work better when there's some liquid that helps to move the solids around.
But if you think about it, small electric grinders break up coffee beans with blades, which is basically the same thing. That's why a normal home blender is a great coffee grinder alternative!
We recommend to first check if your blender has a "grinding" option. This will give you a decent medium coffee grind.
However, you shouldn't attempt to grind large amounts of coffee beans. When using a blender, make sure to only grind in small amounts.
The blades moving at high speeds generate heat. Running the blender continuously can overheat the coffee beans' natural oils, leading to a bitter and harsh taste.
Here is how you should use a blender to grind your coffee beans:
Pour a small amount of coffee beans into the blender and cover with the lid.
Select the blender's grinding setting or any other high-speed setting.
Grind your coffee beans in short and quick bursts until you are happy with the grind.
Empty the blender and wash it right away to prevent the smell and taste of stale coffee from taking hold.
We recommend grinding coffee beans for only one cup of coffee. If you need to brew a pot of coffee for more people, it is best to repeat the process with another small amount of coffee beans, instead of doing a large amount at once.
This will take more time but it will prevent the blades of the blender from getting stuck and it will also prevent the coffee beans from overheating. The resulting coffee will taste much better.
It is true that blades will never give as consistent a grind as burrs, but a blender is a good alternative if you don't have a coffee grinder at home.
Pro Tip
For a better result, tilt the blender from side to side while grinding. This will make the larger portions of coffee beans to move into the blades, ensuring a more even grind.
Related Questions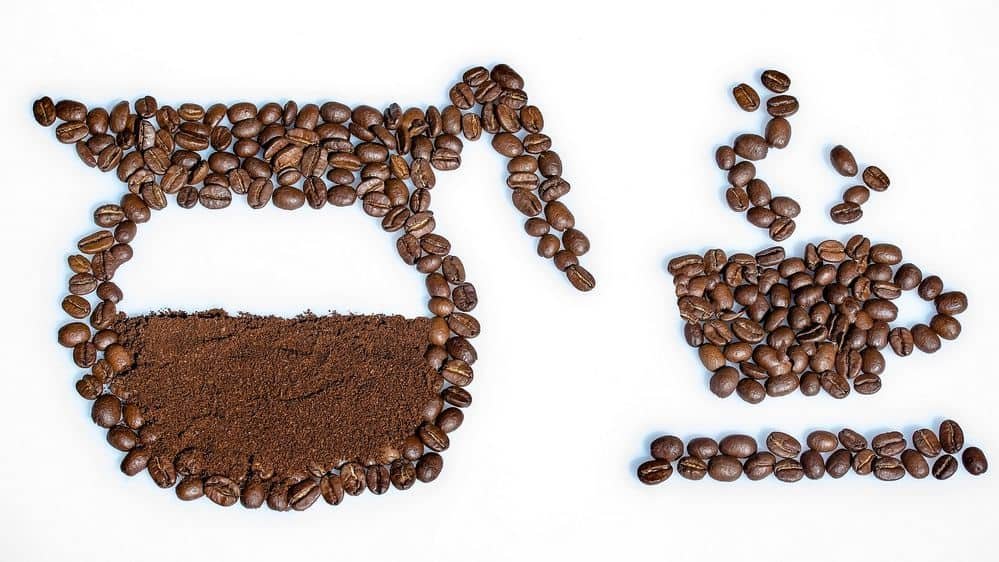 Can I Grind Coffee Beans In The Nutribullet?
The Nutribullet is a small, affordable extractor designed to quickly blend at a high speed. It is portable, making it more convenient than a traditional blender.
The wider Nutribullet containers can move ingredients around better for more even blending than many conventional blenders.
The Nutribullet Original has a 600-watt motor that will grind almost everything. Its blenders spin at high speed (up to 24,000 RPM) to crush and pulverize ingredients, including seeds. The Nutribullet Original works fine if you are attempting a coarse grind for a cold brew coffee.
The only drawback of the Nutribullet Original is that it has only one speed and no pulse. This might have a negative impact on the flavor of the ground coffee due to overheating from the blades.
There are, however, two alternatives to the Nutribullet Original. One is the Nutribullet Pro which has a 900-watt motor that will allow you to blend the ingredients quickly and keep them from overheating.
The other option is the Ninja Pro blender. It is also 900 watts but it features one speed and pulse. This will allow you to grind coffee beans just like in a blender: in short and quick bursts.
Why Learn How To Grind Coffee Beans In A Blender?
Have you noticed that professional coffee shops grind the coffee beans right before brewing the coffee drink you ordered?
They never use pre-ground coffee (and if they do, you should find a new coffee shop).
There are many factors that influence the final result of a cup of espresso, but coffee grinds play a major role. Using pre-ground coffee might save you some time, but by doing this, you are sacrifice flavor.
Pre-ground coffee makes your coffee taste stale. As a coffee lover, you want to make sure that your daily cup of coffee tastes as fresh as possible.
Grinding your coffee beans right before making a pot of coffee guarantees you that fresh coffee flavor because it minimizes their exposure to oxygen, which tends to destroy the flavor of the coffee bean.
Most coffee enthusiasts recommend grinding the coffee beans thirty minutes before brewing. This is the reason why the best home coffee makers have a grinder built-in.
The only way to get the maximum flavor from your coffee beans is by grinding them shortly before brewing them.
Can I Grind Any Coffee Beans In A Blender?
You can grind any type of coffee beans in a blender as long as they're roasted. That means you shouldn't grind green coffee beans in a blender.
Even some mills used for grinding roasted coffee beans are not suitable for grinding raw coffee beans and can suffer damage from even the first grinding attempt.
So we advise you not to try grinding green coffee beans in a blender.
Will Grinding Coffee Beans Damage My Blender?
If you are careful, your blender shouldn't suffer any damage. That's why we recommend you grind only a small amount of coffee beans in short bursts, rather than at one speed.
You should also make sure that your blender has a "grinding setting", before attempting to grind coffee beans.
How Else Can I Grind Coffee Beans Without A Grinder?
If the idea of using a blender (or any small extractor) to grind coffee beans doesn't appeal to you (or you do not have a blender), here are more tools that you can use as an alternative to a coffee grinder.
Grinding coffee beans without a grinder is harder and definitely more time-consuming than using a proper coffee grinder, but if you don't have one on hand and you want to enjoy fresh-tasting coffee, it's the only way to go.
Is It Better To Grind A Lot At Once Or Fresh Every Day?
Although it is possible to grind a larger amount of coffee and store it for a few weeks, it's not ideal, for two reasons.
Grinding your own coffee beans is not only cheaper, but it guarantees a daily fresh coffee taste. So if you grind a lot of coffee beans and store the ground coffee for later use, it will eventually lose its flavor and you will get stale coffee. It's the same as buying pre-ground coffee.
The second reason why we would not recommend grinding a lot of coffee in a blender at once, is because running the blender continuously can overheat the coffee beans' natural oils, leading to a bitter and harsh taste.
You might save time by grinding a large amount of coffee and storing it, but you would be sacrificing the flavor and we don't think that's worth it.
Can I Grind Coffee Beans In A Blender? Final thoughts
Coffee grind plays a huge role in the process of brewing coffee. From the coarseness of the grind to the freshness of it, everything will have an impact on the final result: the taste of your cup of coffee.
That's why coffee enthusiasts recommend grinding your coffee beans at home, right before making a pot or cup of coffee.
However, not everybody can afford a professional coffee grinder or a coffee machine with a grinder. That's why we think it's important to present you with alternatives to grind coffee beans.
Of all the alternatives to grinding coffee without a grinder, using a blender is by far the best because it works similar to a blade grinder.
It is true that none of the alternatives to a grinder give you the same fine and consistent grind as a professional coffee grinder does. But it is still better than pre-ground coffee.
And not having a grinder at home shouldn't be an obstacle to enjoying the full and rich flavor of a cup of coffee!