Be honest.
Do you ever clean the warming plate on your coffee maker?
Most people might do it once a year. Or never.
Sure, you clean the pot. And the filter, if your coffee machine has a reusable one.
But you ignore the warming plate. And why not?
The warming plate doesn't even get dirty, does it?
Well, over time it does.
Coffee residue, minerals and other grime accumulate and keep the plate from reaching its optimal temperature.
Then it can't serve its purpose: keeping your coffee warm. A dirty plate can also give off a burnt odor every time you start your coffee maker.
But you know what? Cleaning it is easy, so you have no excuse!
Follow the quick steps below to get your warming plate looking like new, using common household items.
How To Clean The Warming Plate On A Coffee Maker
We'll start with a list of the common household items we'll be using to clean the warming plate. Then we'll go through each of the 4 steps in detail. You'll see the whole thing is a quick, simple and painless process.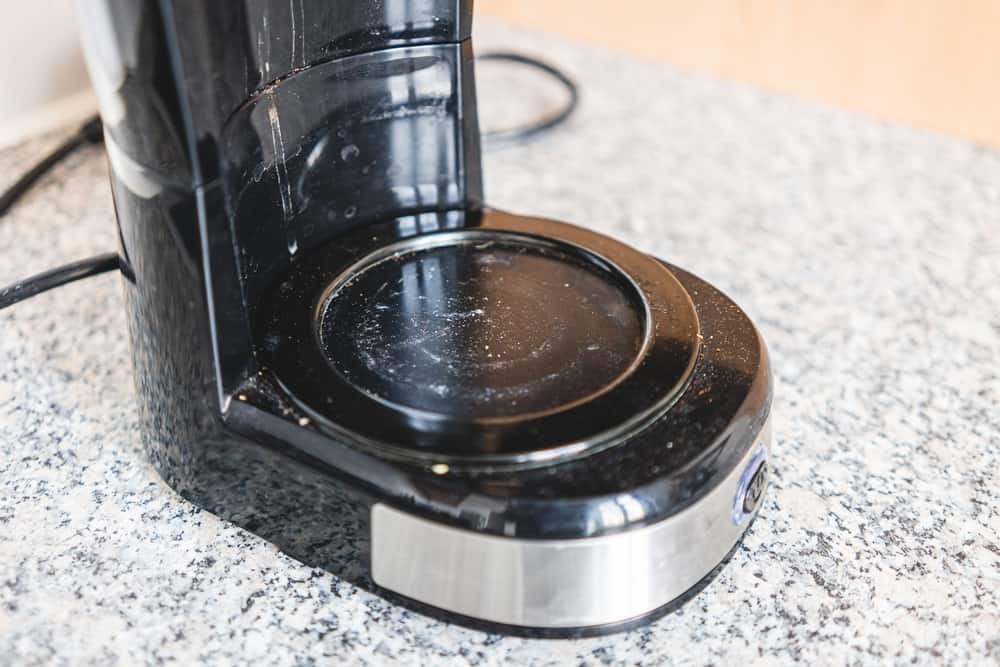 What You Need To Clean The Warming Plate
Vinegar
Baking soda
Lint-free cloth
Old toothbrush or other small brush (optional)
You don't need special items to remove burnt coffee and dirt from the warming plate of your coffee maker. Some vinegar and baking soda will do the job.
We also recommend a lint-free cloth to wipe it down and, if your warming plate is especially dirty, a little brush (an old toothbrush will do).
4 Simple Steps
Follow the steps below and your warming plate will look like new in no time. If you have stubborn dirt that won't come off, repeat the steps. That should take care of any stubborn spots.
1. Unplug Coffee Maker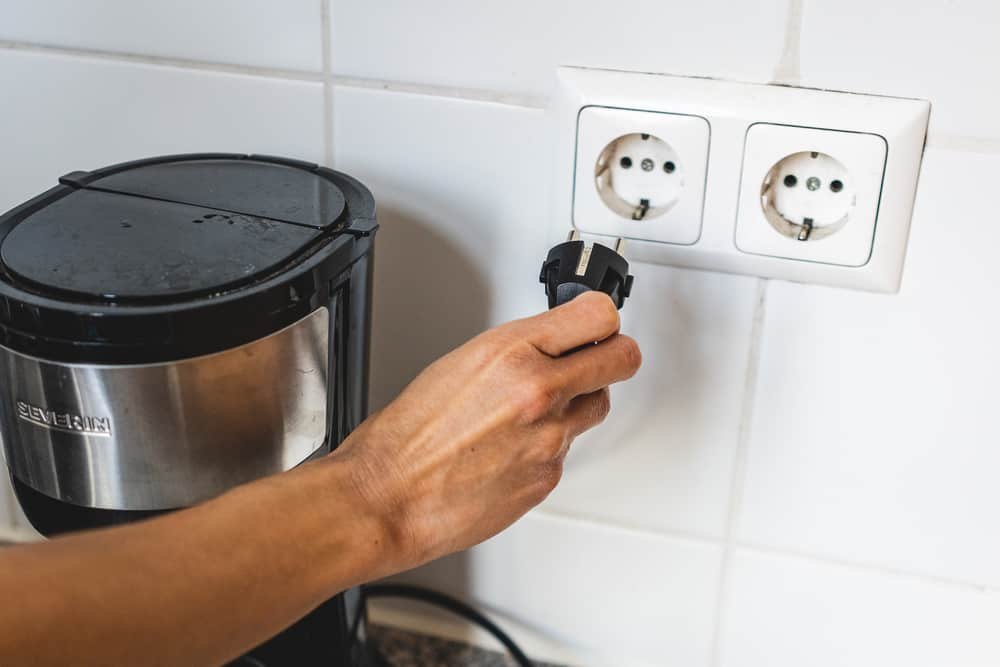 Make sure that your coffee maker is unplugged. Because you will be using liquids, there is the risk of electrocution if you leave the machine plugged in. Besides, your coffee maker can be damaged if an electric discharge is produced.
In addition to unplugging it, make sure the warming plate is completely cool before cleaning, if you have used your coffee maker recently. You could burn yourself or the cleaning products.
2. Sprinkle With Baking Soda
Sprinkle baking soda on the rusty areas or on stains. For a small coffee maker, 1/4 tsp. of baking soda should be enough. For larger ones, use 1/2 tsp. You might need up to 1 tsp. if the warming plate is especially dirty.
If you are in the US, the most common baking soda brand is Arm & Hammer, but you can use any product that contains sodium bicarbonate.
3. Add Vinegar
Pour white vinegar over the baking soda and let it sit for a few minutes. You don't need any fancy flavored vinegar. Use the cheap white vinegar found in any store.
Baking soda and vinegar react chemically because one is a base and the other is an acid. The bubbles that the chemical reaction creates will dissolve the rust and dirt off the warming plate.
4. Brush And Wipe
If the warming plate of your coffee maker is especially dirty, rub it with a little brush. Try not to be too aggressive so you don't damage and peel the surface off.
If the plate is not too dirty, just wipe the vinegar and baking soda off with a damp lint-free cloth. You might need to repeat this last step until the warming plate is completely free of baking soda and vinegar.
Related Questions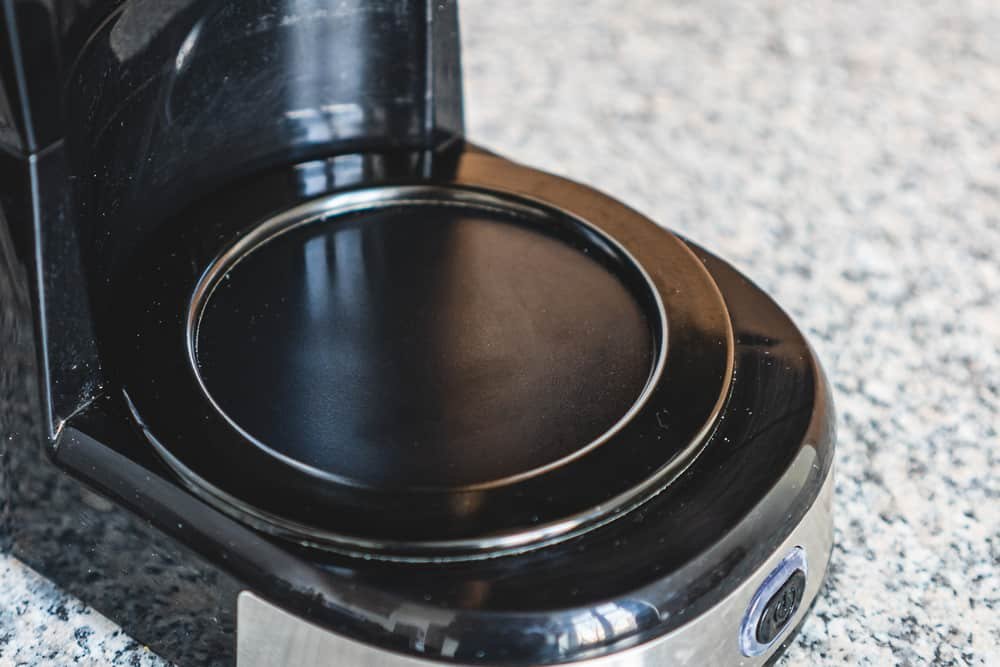 How Often Should I Clean The Warming Plate Of My Coffee Maker?
Ideally, you should clean the warming plate daily. If you do this, you can just wipe it down with a cloth. But if you don't have the time or you're too lazy (like me), you can try the method above once every two months.
Take into account that it all depends on how often you use your coffee maker. If you make several pots of coffee a day, then you should consider cleaning it more often.
Remember, dirt and coffee residue on the warming plate will decrease its temperature. If you notice that it is not working as it should, it might be time to clean it.
What Can You Use Besides Vinegar To Clean The Warming Plate?
If you don't have vinegar at home or if you don't like the smell of it, there are other products that you could use instead to clean the warming plate of your coffee maker.
Dish Soap
Dish soap is a great alternative. It works fine to clean some dirt but to remove older stains, you might need to brush harder. You will need to wipe it clean multiple times, in order to remove all the soap from the warming plate.
Coca Cola
Would you believe you can actually use Coca-Cola for cleaning? It's true!
This soda is made with carbonic acid, which makes it ideal for getting rid of rust.
All you need to do is pour some coke over the rust on the warming plate and leave it overnight. After that, wipe the surface with a lint-free cloth.
Oxalic Acid
If you are looking for something more professional, then oxalic acid is your best option. Oxalic acid is an essential household chemical that cleans just about anything. It works as a rust and stain remover, and as a bleaching agent.
To use it on your warming plate, make a solution of water and oxalic acid and leave it on the warming plate for about 30 minutes. Wipe off the solution with a cloth.
Cleaning A Coffee Machine Warming Plate: Final Thoughts
Coffee machines make our life simpler and happier. We underestimate them until they break down or they start giving us some trouble.
But just as you take care of the rest of your household appliances, coffee makers need maintenance, too.
You don't need to invest much time. Or much money on expensive cleaning items. Keep your coffee maker clean and working properly can be quick and cheap.
And it's so worth it. The little effort you put in gets rewarded by a good, quality cup of coffee and a machine that continues to brew that delicious coffee for years to come.